Mexican news photographer found slain
A photographer for the Mexican investigative magazine Proceso, who had fled his home state after being harassed, was among five people found slain early on Saturday in an apartment in Mexico City, according to the magazine.
The body of Ruben Espinosa, who collaborated with Proceso and other media outlets, was identified by a family member at the morgue on Saturday afternoon, Proceso reported, adding that he had suffered two gunshot wounds.
Espinosa had recently gone into self-exile from the Mexican Gulf coast state of Veracruz, where he felt under threat, according to Proceso. His family had lost contact with him on Friday and by Saturday the free speech advocacy group Article 19 had called on Mexican authorities to activate the protocols for locating a missing journalist.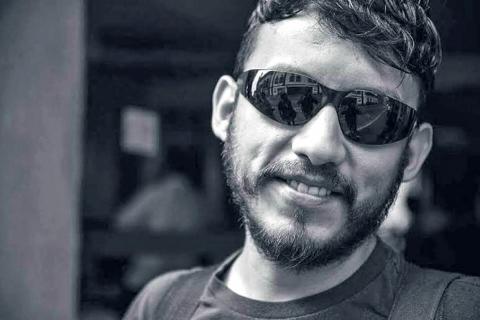 An undated photograph shows slain Mexican photojournalist Ruben Espinosa.
Photo: EPA
He was found dead with four women, three of whom lived in the apartment in the middle-class Narvarte neighborhood near the city center, according to the Mexico City Prosecutors' Office. The fourth woman was a domestic employee, the prosecutors' statement said, adding that identifications and cause of death were still being verified.
Veracruz has been a dangerous state for reporters. According to US non-profit organization the Committee to Protect Journalists, 11 journalists have been killed there since 2010, all during the rule of Veracruz Governor Javier Duarte, the most recent just a month ago.
Two others, including Espinosa, were Veracruz journalists found dead outside of the state.
Article 19 on Saturday called the killing of Espinosa a new level of violence against journalists in Mexico, as he was the first to be killed while in exile in Mexico City. Many reporters under threat in their home states have taken refuge in the capital, where the federal government has set up an agency to help such journalists.
The group said that the killing occurred "without authorities charged with protecting journalists lifting a finger to help Espinosa."
Article 19 said it published an alert about Espinosa on June 15 after he reported people following him, taking his photograph and harassing him outside his home in the capital of Veracruz, Xalapa.
Comments will be moderated. Keep comments relevant to the article. Remarks containing abusive and obscene language, personal attacks of any kind or promotion will be removed and the user banned. Final decision will be at the discretion of the Taipei Times.