Benin pledges 800 troops to fight against Boko Haram
Beninese President Thomas Boni Yayi announced he plans to send 800 troops to join a new multinational force tasked with fighting Boko Haram militants after meeting with Nigerian President Muhammadu Buhari on Saturday.
Buhari, who was sworn in on May 29, is facing a particularly deadly surge of extremist violence at home, with more than 800 people killed in northeastern Nigeria in the last two months.
The violence has spread to neighbors Chad and Cameroon, both of whom have faced an unprecedented wave of suicide bombings on their soil in recent weeks.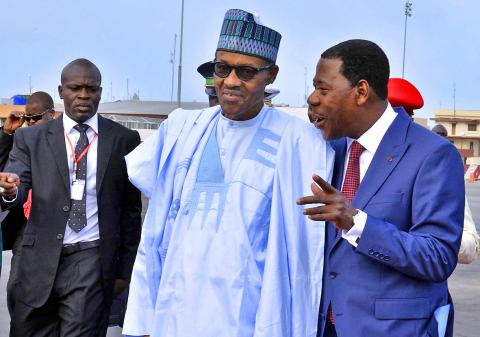 Beninese President Thomas Boni Yayi, right, receives Nigerian President Muhammadu Buhari, center, in Cotonou, Benin, on Saturday.
Photo: AFP
After a visit to Cameroon earlier this week to discuss the fight against the militant group, Buhari was in Cotonou to attend celebrations marking Benin's 55 years of independence.
Boni Yayi, 63, told reporters after a meeting with Buhari that Benin would show "solidarity" with its "brothers in arms" in the region by sending "a contingent of 800 men ... to permanently combat these outlaws."
Troops for the new multinational force, which includes soldiers from Nigeria, Cameroon, Niger and Chad, as well as Benin, were set to be deployed at any time, its commander, Nigerian Army Major General Iliya Abbah, said on Saturday.
The force, made up of about 8,700 troops and headquartered in Chad, is expected to help with better coordination of the regional offensive launched in February, which has made a series of successful inroads against the extremist group, but has failed to neutralize the militants.
Boko Haram, whose name roughly translates as "Western education is forbidden," has carried on its campaign of attacks on security forces, suicide bombings and bloody raids on villages across Nigeria's north and eastern borders despite the military campaign against them.
Boko Haram has kidnapped thousands of civilians, including women and children, with many either forced or indoctrinated into joining the extremists, rights groups say.
Comments will be moderated. Keep comments relevant to the article. Remarks containing abusive and obscene language, personal attacks of any kind or promotion will be removed and the user banned. Final decision will be at the discretion of the Taipei Times.