Myanmar flood toll to increase, UN says
FLOODS AND LANDSLIDES: Monsoon rains triggered flash flooding and landslides throughout Asia that have destroyed homes and displaced thousands of people
The toll from flash floods and landslides in Myanmar after days of torrential rain is likely to spike, the UN warned yesterday, as monsoonal downpours brought misery to thousands across the region.
At least 27 people have been killed and more than 150,000 people have been affected by flooding in Myanmar in recent days, with the government declaring the four worst-hit areas in central and western Myanmar as "national disaster-affected regions."
Many people have also perished in India, Nepal, Pakistan and Vietnam following floods and landslides triggered by heavy seasonal rains.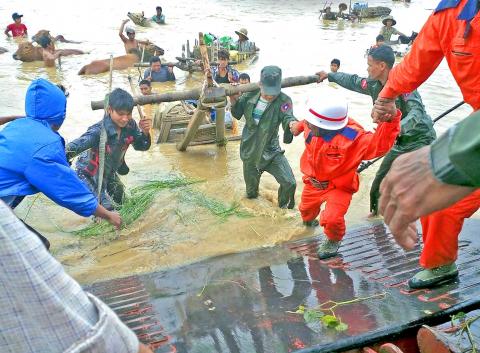 Rescue workers help victims with their cattle to flee flooded areas near the Thayet township of Magway Region, Myanmar, yesterday.
Photo: EPA
Rescue work in Myanmar has been hampered by continued downpours and the inaccessibility of many of the remote regions worst hit by the deluges.
The UN's Office for the Coordination of Humanitarian Affairs (OCHA) yesterday said it had been informed by the Burmese government's Relief and Resettlement Department that at least 156,000 people have been affected by the floods, but that figure was likely to be "significantly higher" because many areas "have still not been reached or reported on by assessment teams," the agency said.
The OCHA said the official death toll of 27 was also likely an underestimate.
"As further information becomes available, this figure is also expected to increase," the statement said.
Seasonal monsoon rains have also brought death and destruction to other Asian nations.
About 20 people were feared dead after a hill collapsed onto a village in India's northeastern state of Manipur on Saturday following incessant rains, a local magistrate said.
Rescuers yesterday were clawing through mud and debris searching for bodies and survivors of the accident in the remote village in Chandel district bordering Myanmar.
"So far we have reports of 20 people killed when a hillock caved and trapped the villagers," magistrate Memi Mary told media by telephone from Chandel town.
Torrential rains have triggered flooding elsewhere in India including in worst-hit western Gujarat, where the death toll has hit 53.
In Vietnam rescuers were battling toxic mudslides from flood-hit coal mines in northern Quang Ninh, home to the UNESCO-listed Halong Bay tourist site.
Seventeen people have been killed in recent flooding including two families swallowed up by the toxic mud.
"In one second, mud and rock smashed into my house. We were lucky to escape with our daughter," primary-school teacher To Thi Huyen said.
Inundations have also hit Pakistan, with 81 people killed and about 300,000 people affected by floods in the past two weeks, while 36 people have perished in landslides in Nepal.
Two of the worst-affected areas in Myanmar are the remote and impoverished western states of Chin and Rakhine.
The Myanmar Red Cross Society said 300 homes in Rakhine had been destroyed or damaged, with around 1,500 people evacuated to shelters.
"The figures are expected to increase in the coming days as Red Cross assessment teams access remote areas of Rakhine affected by the flooding," agency head Maung Maung Khin said in a statement released yesterday.
Rakhine already hosts 140,000 displaced people, mainly Rohingya Muslims, who live in exposed makeshift coastal camps following deadly 2012 unrest between the minority group and Buddhists.
State media also reported that the Chin state capital Haka had been rocked by landslides over the weekend destroying 60 homes, a number of key roads and seven bridges.
The sheer extent of the flooding is testing the government's limited relief operations.
An official at Myanmar's social welfare ministry who did not want to be named told AFP on Saturday that all but one of the country's 14 provinces and regions were affected by flash floods with rescue workers "struggling to access flood-hit areas."
Myanmar is annually struck by monsoon rains that are a lifeline for farmers, but the rains and frequent powerful cyclones can also prove deadly, with landslides and flash floods a common occurrence.
In May 2008 the then-ruling junta was heavily criticized for its slow response to Cyclone Nargis which devastated the Irrawaddy Delta region and killed about 140,000 people.
The army has since ceded control to a quasi-civilian reformist government and fresh elections are slated for Nov. 8.
Comments will be moderated. Keep comments relevant to the article. Remarks containing abusive and obscene language, personal attacks of any kind or promotion will be removed and the user banned. Final decision will be at the discretion of the Taipei Times.