S Korea fears MERS may have spread
South Korea yesterday said it was closely monitoring a hospital in eastern Seoul over fears that hundreds of people there may have been exposed to Middle East respiratory syndrome (MERS).
A 70-year-old woman who caught MERS while visiting an infected relative in a different hospital was feared to have spread the virus to the new site.
"We are focusing our efforts in tracing contacts and isolating people who came close to this patient," a senior health ministry official told journalists yesterday.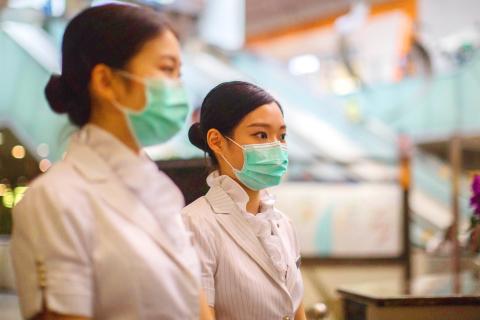 Members of staff wear face masks at Kowloon station in Hong Kong yesterday after a 17-year-old South Korean man with a fever sought medical care at a clinic at the station and has since been isolated in hospital where he is being tested for MERS.
Photo: AFP
The woman died on June 25, two days after she was diagnosed, but due to the virus' 14-day incubation period anyone she infected could only start showing symptoms in the coming days.
The official said it was too early to say whether the outbreak may be on the wane, given that new cases are expected at the new site.
"We would be able to talk about any trend of the outbreak only after watching the development at the hospital," he said.
The comments came as the nation reported one additional MERS case, bringing the total number of confirmed cases to 182 in the largest outbreak of the virus outside Saudi Arabia.
However, no additional fatalities were reported in the past 24 hours, with the death toll standing at 31, the health ministry said.
The latest case involved a 27-year-old nurse at a hospital in eastern Seoul who was believed to have been infected while treating a patient.
She is the fifth confirmed case at the hospital, where more than 100 patients who were exposed to the virus while undergoing dialysis have been isolated at the hospital since June 18.
Of the 182 confirmed cases, 90 people have recovered, 31 have died and 61 others are still being treated — 13 of whom are listed in a critical condition.
Most of the deceased had pre-existing medical conditions, according to the health ministry.
About 2,467 people were in isolation yesterday, down from 2,931 on Friday.
Comments will be moderated. Keep comments relevant to the article. Remarks containing abusive and obscene language, personal attacks of any kind or promotion will be removed and the user banned. Final decision will be at the discretion of the Taipei Times.