Obama calls on Beijing to take steps to ease tensions
'HONEST DISCUSSION': The US urged measures over cyberattacks and maritime disputes, while China urged the US to 'respect and accommodate' China's concerns
US President Barack Obama urged Beijing to take "concrete steps" to ease tensions over cyberhacking and its wide-ranging maritime claims, as the US and China ended three days of candid talks.
US officials have voiced deep concerns about both issues at the annual strategic and economic dialogue aimed at setting guidelines to steer future ties between the world's two leading economies.
During talks in Washington with top Chinese officials, Obama "raised ongoing US concerns about China's cyber and maritime behavior, and he urged China to take concrete steps to lower tensions," the White House said.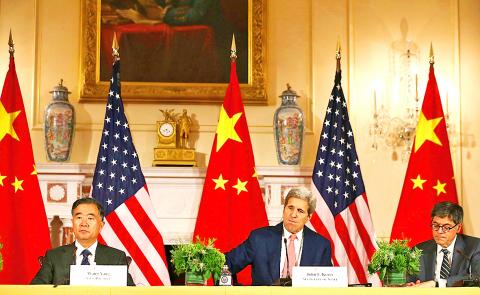 US Secretary of State John Kerry, second left, US Secretary of the Treasury Jack Lew, right, and Chinese Vice Premier Wang Yang make their closing statements on Wednesday at the US Department of State in Washington at the end of the US-China Strategic and Economic Dialogue conference.
Photo: AFP
Ties have strained over US accusations of cyberespionage and this week's talks come after revelations of huge breaches of US government computer networks at the US Office of Personnel Management.
Washington has also voiced concerns about China's territorial claims to much of the South and East China Seas, calling on Beijing to resolve the issue peacefully with its neighbors.
US Secretary of State John Kerry, who hosted the talks along with US Secretary of the Treasury Jack Lew, said cyberhacking raised questions about security and "frankly harmed American businesses."
However, he said the issue was raised in an "honest discussion without accusations or finger-pointing, about the problem of cybertheft and whether or not it was sanctioned by government."
The US had "made it crystal clear that this is not acceptable and we need to work through ... how we are going to work this out in terms of the bilateral relationship," Kerry said.
However, Chinese State Councilor Yang Jiechi (楊潔篪) called on the US to "respect and accommodate the concerns of China and handle differences and sensitive issues with caution."
He said he "urged the US to respect facts and work together with China to improve the cyberrelations between the two countries."
It was important for the US "to respect China'a sovereignty and territorial integrity and respect the development path chosen by the Chinese people," Yang said.
While Washington has repeatedly voiced deep concerns about rights and freedoms in the single-party country, Yang said that "in advancing human rights China's achievements are there for all to see."
However, even though both sides have stressed they continue to have differences over various issues, they have also been at pains to emphasize that they can cooperate.
Kerry said this, the third round of talks which he has led, had been "one of the most constructive and productive."
Areas where Beijing and Washington can collaborate include on nuclear non-proliferation efforts with Iran and North Korea, as well as in Afghanistan.
The two countries also launched a joint initiative to protect the oceans, and vowed to step up efforts to combat illegal wildlife trafficking.
On their burgeoning economic ties, the US side stressed the need for transparency and proper regulation for businesses.
The two countries discussed Beijing's desire for the yuan currency to be given a greater global role such as being part of the IMF's international basket of reference currencies. Washington has long said the yuan is manipulated and undervalued.
"China has committed to intervene in the foreign exchange market only when necessitated by disorderly market conditions, and to actively consider additional measures to transition to a market-oriented exchange rate," Lew said.
Comments will be moderated. Keep comments relevant to the article. Remarks containing abusive and obscene language, personal attacks of any kind or promotion will be removed and the user banned. Final decision will be at the discretion of the Taipei Times.