Stowaway found, man falls on roof
A suspected stowaway is being treated in a London hospital after being found unconscious on Thursday on a British Airways flight from Johannesburg after the plane landed, British police said on Friday.
Police said that they also found the body of a dead man on the roof of an office under the flight path to Heathrow Airport and were trying to work out if he could have fallen off the same plane.
The man found alive is believed to be 24 years old and police said in a statement that he was found in the undercarriage of the plane.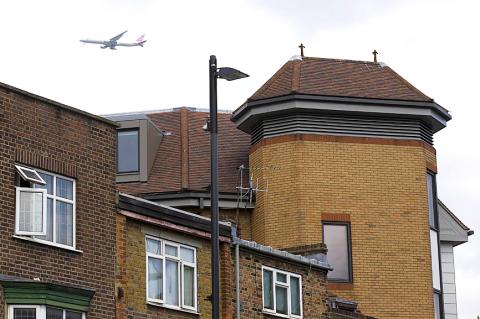 An airplane on Friday flies past the offices of notonthehighstreet.com, an online retailer in Richmond, a southwestern suburb of London where the body of a dead man was found on the roof on Thursday.
Photo: AFP
"His condition is now described as critical," the statement said.
A police spokesman said that the possibility that the two men were on the same plane is "one of the lines of inquiry."
The police were called about the suspected stowaway on the 12,875km flight from South Africa at 8:28am and about the body at 9:35am.
The flight takes 11 hours and outside temperatures during the journey would fall as low as minus-60?C.
"We are working with the Metropolitan Police and the authorities in Johannesburg to establish the facts surrounding this very rare case," a British Airways spokeswoman said.
The body was found on the roof of the offices of online retailer notonthehighstreet.com in Richmond, a wealthy southwest suburb of London.
"Officers and the London ambulance service attended and found the body of a male on the roof of the premises," the company said in a statement.
"The death is currently being treated as unexplained, but early indications are that the body may be that of an airline stowaway," the statement said.
There have been several cases of stowaways being found dead clinging to the landing gear of planes.
In 2012, a man from Mozambique fell from the undercarriage of a Heathrow-bound flight from Angola onto a street under the flight path near Richmond.
An inquest found that he may have survived freezing temperatures for most of the flight, but was "dead or nearly dead" by the time he hit the ground.
"It's very shocking when it's so close to you," said Reverend Neil Summers from the St John the Divine church opposite where the body was found on Thursday.
"In one sense it's not totally surprising, as it's happened before," he said.
In April, an Indonesian stowaway survived an hour-long flight from Sumatra to Jakarta hidden in the undercarriage of the plane.
Comments will be moderated. Keep comments relevant to the article. Remarks containing abusive and obscene language, personal attacks of any kind or promotion will be removed and the user banned. Final decision will be at the discretion of the Taipei Times.