Mumbai tainted liquor deaths hit 74
The death toll from India's latest incident of mass alcohol poisoning following the consumption of toxic homemade liquor rose to 74 yesterday, Mumbai police said.
Mumbai Police Deputy Commissioner Dhananjay Kulkarni told reporters that the number who had died from drinking the moonshine had increased from 53 late on Friday.
"Seventy-four have now died and 21 are receiving treatment in hospital," he said, adding that the deaths were expected to increase further.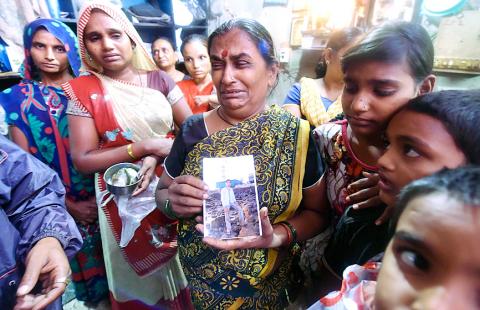 A relative in Mumbai on Friday holds a photograph of a man who died after consuming toxic liquor.
Photo: AFP
Victims first started to fall ill on Wednesday morning after consuming the illegal booze and people were still being hospitalized yesterday, the commissioner said.
Five people have so far been arrested on charges of distributing and selling the alcohol in a slum in the suburb of Malad West, in the north of the city.
Eight police officers have been suspended for "negligence" for allowing the sale to take place on their beat, Kulkarni said.
An investigation is taking place on whether high levels of methanol were present in the moonshine, often called "country liquor" in India.
Methanol, a highly toxic form of alcohol used as antifreeze or fuel, is reportedly often added to bootleg liquor in India as a cheap and quick method of increasing the alcohol content.
Unlicensed liquor is widely consumed across India, where it is sometimes sold for less than US$1 for a 250ml bottle, with deaths frequently reported.
However, it is rare for such incidents to occur in a major city like Mumbai, with most cases taking place in poor, rural villages.
It is the worst case of its kind to be recorded in Mumbai since 2004, when about 100 people died. In January, more than 31 people died near Lucknow in Uttar Pradesh after drinking a lethal batch of home-brew.
Police arrested 12 people in October 2013 after more than three dozen villagers died from toxic liquor in Uttar Pradesh.
In 2011, nearly 170 people died in West Bengal after drinking moonshine.
Comments will be moderated. Keep comments relevant to the article. Remarks containing abusive and obscene language, personal attacks of any kind or promotion will be removed and the user banned. Final decision will be at the discretion of the Taipei Times.