Handshakes mark bicentenary of Waterloo
The descendants of Napoleon Bonaparte and the Duke of Wellington shook hands at Waterloo on the 200th anniversary of a battle that ended French imperial hegemony over Europe and ushered in a century of fragile peace.
Belgium's king and prime minister, hosting the celebrations, used the occasion on Thursday to hail the EU, based a few kilometers away in Brussels, and characterized Waterloo, fought with great loss on June 18, 1815, as a turning point in the development of systems to manage the continent's many states.
In a symbolic gesture, descendants of the French, British, German and Dutch commanders shook hands — Jean-Christophe Napoleon Bonaparte, a London financier; Arthur Wellesley, son of the current Duke of Wellington; Nikolaus Prince Bluecher, a descendent of the Prussian marshal; and King Willem-Alexander of the Netherlands, whose ancestor led Wellington's Dutch allies.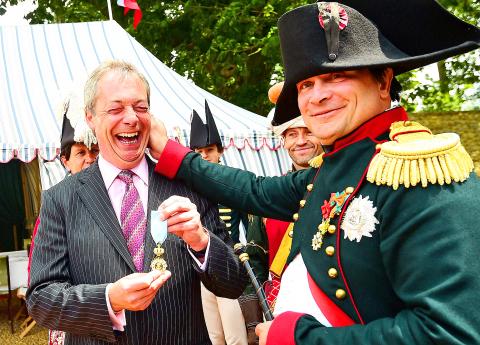 French lawyer Franck Samson, right, dressed as Napoleon Bonaparte, pulls the ear of UK Independence Party leader Nigel Farage at Napoleon Bonaparte headquarters at the celebrations for the 200th anniversary of the Battle of Waterloo in Waterloo, Belgium, on Thursday.
Photo: AFP
"Those who yesterday were enemies have become the closest of allies," Belgian Prime Minister Charles Michel said. "It is not so much a battle, it is a reconciliation I want to celebrate today."
He spoke on the day when the EU, already stressed by confrontation with Wellington's old ally Russia and by fears of Britain quitting in a referendum, found itself facing a "Waterloo" of its own as Greece refused to cut its budget to qualify for EU loans it needs to avoid looming bankruptcy.
King Philippe of the Belgians, whose state was created through the diplomatic system set up in the wake of Waterloo, recalled how the final defeat of a post-revolutionary Napoleonic French empire stretching from Iberia to the Russian frontier led to a "concert of Europe" aimed at settling disputes in peace.
"Today, the European institutions are firmly established in Brussels, a few kilometers from Waterloo," he said. "Certainly, it is not always easy to get along, but it is always better to meet around the negotiating table than on the battlefield."
France sent its ambassador to the ceremony, making it the first major anniversary at the site to be marked by all sides.
A music-and-fireworks spectacular, featuring several hundred of the 5,000 battlefield re-enactors gathering for the weekend, marked the end of the bicentenary day.
About 200,000 visitors are expected at Waterloo over the coming few days to watch vivid evocations of the bloody summer Sunday 200 years ago when tens of thousands of men died on the battlefield.
Comments will be moderated. Keep comments relevant to the article. Remarks containing abusive and obscene language, personal attacks of any kind or promotion will be removed and the user banned. Final decision will be at the discretion of the Taipei Times.