Australia plans czar to police wind farms
'UTTERLY OFFENSIVE': While wind farms have been championed in other nations, their use in Australia has been controversial, due to being 'ugly,' 'noisy' and potentially harmful
A day after Pope Francis urged world leaders to cut fossil-fuel emissions, Australia outlined plans to appoint a commissioner to crack down on wind farms.
The government is also backing further research into whether wind farms damage people's health, Australian Minister for the Environment Greg Hunt said in a radio interview yesterday.
People have "concerns over the localized impacts of wind energy and they deserve a right to be heard," Hunt said. "This is where the role of a commissioner comes in."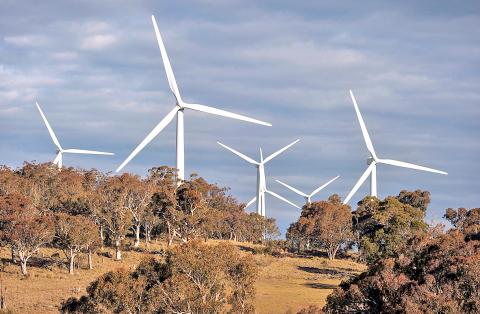 Wind turbines operate behind trees in Bungendore, Australia, on July 24 last year.
Photo: Bloomberg
Australian Prime Minister Tony Abbott, who has labeled wind farms as ugly and noisy, has shown limited enthusiasm to join the US and China in a broader global fight against climate change. His government axed a price on carbon emissions and is negotiating with lawmakers over reducing renewable energy targets.
Championed as a tool to cut greenhouse gases in nations as diverse as Spain and China, wind farms have become contentious in Australia, a country with 9 percent of the world's black coal reserves.
"Up close, they are ugly, they are noisy and they may have all sorts of other impacts which I will leave to the scientists to study," Abbott said about wind farms on Friday last week.
Australian Treasurer Joe Hockey has called them "appalling" and "utterly offensive."
Hunt rejected claims the Australian government is involved in a sustained attack on the renewable energy industry. The proposed commissioner is a person who can hear concerns and complaints, he said.
"This is clearly politically motivated and without any scientific basis," the Australian Clean Energy Council said in an e-mailed response to questions.
In a report released in February, the Australian National Health and Medical Research Council found that "there is currently no consistent evidence that wind farms cause adverse health effects in humans."
The council has said no problems have been detected to date, but that there should be additional research going forward, Hunt said.
"When the most senior and significant scientific agency in the country says that, I think we should probably follow their advice," he said.
Comments will be moderated. Keep comments relevant to the article. Remarks containing abusive and obscene language, personal attacks of any kind or promotion will be removed and the user banned. Final decision will be at the discretion of the Taipei Times.