Filipinos fear conflict with China: poll
PEACEFUL RESOLUTION: A Philippine presidential spokeswoman said it is natural for Filipinos to worry about armed conflict as it 'does not benefit anyone'
Eight in 10 Filipinos are worried a festering South China Sea territorial dispute could lead to armed conflict with Beijing, an independent polling company said on Friday.
Manila-based Social Weather Stations said this sentiment had weighed on people's minds since the Philippines in 2012 backed down from a tense standoff with China over control of rich fishing grounds near the Scarborough Shoal (Huangyan Island, 黃岩島), which Taiwan also claims.
The study showed 84 percent of 1,200 respondents were "worried" about armed conflict with China.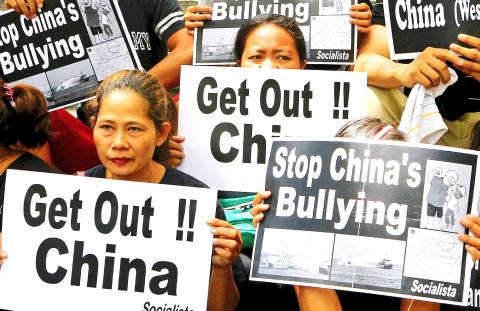 National Confederation of Labor activists yesterday hold up signs at a rally over China's activities in the South China Sea, outside the Chinese embassy in Makati City, Metro Manila.
Photo: Reuters
About half were "worried a great deal" while more than a third were "somewhat worried."
The same poll has been conducted every year since 2012 and in each of the surveys at least 80 percent of respondents have been concerned that the sea dispute could escalate into a full-blown conflict with the Philippines' powerful Asian neighbor.
"It is natural for us to worry about armed conflict, as it is a fact that it does not benefit anyone," Philippine presidential spokeswoman Abigail Valte told reporters, reacting to the survey results. "This is precisely why our government has pursued peaceful means to resolving the dispute."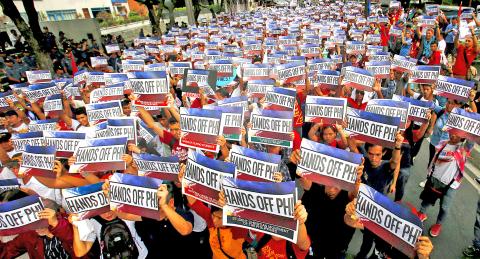 Activists hold up signs during a protest over the South China Sea disputes, outside the Chinese Consulate in Makati City, Metro Manila, Philippines, in this June 12.
Photo: Reuters
The Scarborough Shoal standoff ended with Beijing taking control of the fishing area, which is 220km off the main Philippine island of Luzon.
The shoal is about 650km from Hainan, the nearest Chinese land mass.
China and the Philippines are also in dispute over other islands and reefs in the South China Sea, with the Philippines seeking arbitration from a UN-backed body.
China has refused to participate in the proceedings.
Taiwan, Vietnam, Malaysia and Brunei have overlapping claims in the South China Sea, which hosts major shipping lanes and is believed to hold vast mineral reserves.
China has ramped up construction of artificial islands in the area to reinforce its sovereignty claim over most of the sea, even waters close to the shores of its neighbors.
The Philippine poll also showed a rising number of Filipinos disapproved of their government's handling of the dispute as China undertook other actions to reinforce its claim, including alleged harassment of Filipino fishermen.
In April, Philippine authorities accused the Chinese Coast Guard of robbing Filipino fishermen of their catch at gunpoint at the Scarborough Shoal and shooing away one group with a water cannon.
Forty-six percent of respondents disapproved of their government's response to the Chinese actions at the shoal, higher than 32 percent last year and 27 percent in 2013.
However, 49 percent in the most recent survey, which was carried out over four days in March, said they approved of the government's response.
Comments will be moderated. Keep comments relevant to the article. Remarks containing abusive and obscene language, personal attacks of any kind or promotion will be removed and the user banned. Final decision will be at the discretion of the Taipei Times.