Boko Haram tests Buhari with attacks
'MINDLESS, GODLESS': Nigerian President Muhammadu Buhari took office with a speech that suggested a more aggressive stance on the militant group, an analyst said
A suspected suicide bombing killed at least 26 people inside a mosque in northeast Nigeria's city of Maiduguri on Saturday, hours after Boko Haram launched a separate attack, on the first full day of Nigerian President Muhammadu Buhari's term.
Buhari, who took the oath of office on Friday, vowed in his inaugural address to crush the extremists whom he described as "mindless" and "godless."
The mosque bombing in the Borno State capital was attributed to an assailant who pretended to be a worshipper joining afternoon prayers, police and witnesses said.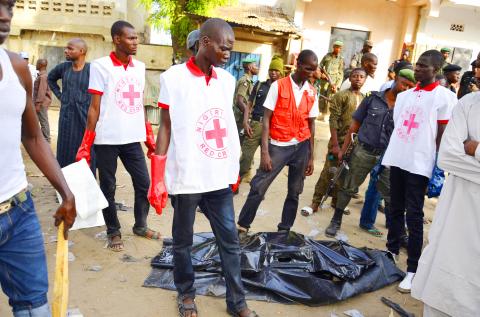 Rescue workers and medical staff gather near the site of an explosion in Maiduguri, Nigeria, on Saturday.
Photo: AP
Earlier, the military repelled an overnight attack launched by insurgents who fired rocket-propelled grenades (RPG) into homes in a bombardment that lasted several hours.
Buhari in his inaugural speech announced plans to reinforce Maiduguri with a new command and control center to better coordinate the counterinsurgency effort, a move analysts said signaled his commitment to intensifying the fight.
It was not clear whether the fresh violence in the strategically crucial city was timed to come the day after the inauguration.
However, the new president is likely to be tested repeatedly in the coming months by a militant group that has proved resilient over its six-year uprising.
The bomber blew himself up inside the Alhaji Haruna mosque next to Maiduguri's Monday Market just after afternoon prayers began at about 3:30pm, Borno State Police Commissioner Aderemi Opadokun and witnesses said.
"The roof was blown off and fire destroyed the mats and a few Korans," market trader Nura Khalid told reporters.
Opadokun said 26 were killed and 28 others injured, describing the assailant as a suicide bomber with an improvised explosive device strapped to his body. While there was no immediate claim of responsibility, the Monday Market has over the past year been hit by several suicide bombings blamed on Boko Haram.
Shortly after midnight on Saturday, residents in the Dala suburb south of Maiduguri woke to the sound of RPGs being fired in succession as Boko Haram fighters tried to advance toward the city, witnesses said.
"It was a nightmare," Dala resident Malam Yusuf told reporters.
His home was hit and his wife's foot was "blown off," he said.
"RPGs kept flying and falling on homes," he said.
Maiduguri-based self-described vigilante Babagana Bulunkutu said several houses were destroyed as assailants fired indiscriminately in Dala and two neighboring suburbs.
A reporter who lives in the area said he heard what sounded like armored personnel carriers deploying to the southern edge of the city to face the rebel advance.
Three senior security sources in Maiduguri who were not authorized to speak publicly said the attack had been repelled.
"All is under control. There is no cause for alarm," one told reporters. A death toll for the overnight attack was not immediately available, but residents reported corpses being taken from homes.
The Muslim rebels have been flushed out of several Borno State towns they controlled in an offensive launched in February by Nigeria with backing from neighbors Cameroon, Chad and Niger.
However, there are signs of the militants regrouping, particularly in the remote parts of eastern Borno State near the Cameroon border.
Buhari in his inaugural speech noted the successes of the four-nation offensive, but said Boko Haram would not be defeated until operational command was shifted from Abuja to Maiduguri.
"This denotes a more hands-on approach to the fight against Boko Haram," Modern Security Consulting Group head Yan St-Pierre said, adding the move was "very sound."
Comments will be moderated. Keep comments relevant to the article. Remarks containing abusive and obscene language, personal attacks of any kind or promotion will be removed and the user banned. Final decision will be at the discretion of the Taipei Times.