Weather devastates northern Mexico and southern parts of US
TORNADO TURMOIL: Texans floated down flooded streets in inflatable lounge chairs as officials cautioned against independent search efforts and more rain loomed
A tornado ripped into a town in northern Mexico on Monday, killing at least 13 people and flattening hundreds of homes in a deadly six-second blast of carnage, officials said.
The twister roared through the Mexican border town of Ciudad Acuna in the state of Coahuila at dawn, tossing cars and semi-trailer trucks into the air before smashing them into houses and buildings.
Images from the aftermath showed several crumpled vehicles resting against walls and roofs as shocked inhabitants of the town of 136,000 worked to claim their belongings and begin repairs after the devastation.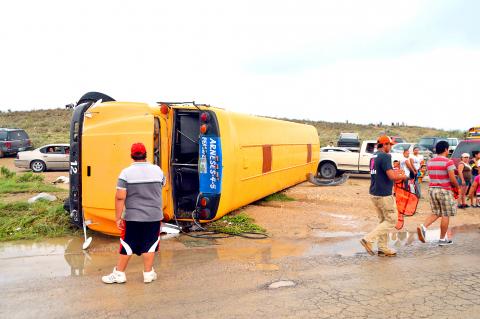 Residents walk past a bus blown over by a tornado in Ciudad Acuna in nothern Mexico on Monday.
Photo: EPA
The tornado came as heavy weather battered portions of Mexico and the southern US, where rescuers hunted for 12 people missing after flash floods across Texas and Oklahoma that left at least three people dead.
National Coordinator for the Civil Protection of Mexico Luis Felipe Puente told Foro TV that "more than 1,000 homes" had been affected.
The tornado swept in at an "impressive speed" of between 270kph and 300kph and lasted just six seconds, Puente said.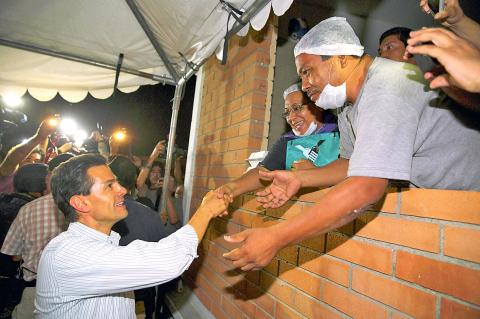 Mexican President Enrique Pena Nieto, left, greets people at Ciudad Acuna, Mexico, on Monday in a handout image provided by his press office.
Photo: AFP
Coahuila State Interior Secretary Victor Zamora said the death toll rose from 11 to at least 13. The victims were 10 adults and three children, he added.
About 230 people were hurt after getting battered by wind-borne objects, Zamora told Milenio TV. Of those, 88 remained in treatment.
Ciudad Acuna Mayor Evaristo Lenin Perez said a seven-year-old boy was missing, while rescuers combed through the rubble to look for more victims or survivors.
Most of the fatalities were people who were out on the street.
"We have hundreds of houses that are practically destroyed," Perez said, appealing for water, canned food and clothing for the victims.
Authorities opened eight temporary shelters for those left homeless.
The tornado whipped up as heavy rains pounded the city, with hail falling in some areas.
Three of the fatalities, including two children, were killed when a ceiling collapsed on them, local media reports said.
Mexican President Enrique Pena Nieto offered federal aid and said such tornadoes are "unusual in our country."
Across the border, Texas Governor Greg Abbott declared states of disaster in 24 counties as severe weather lashed the region.
"I strongly urge all Texans to exercise every possible precaution to ensure their safety and the safety of their families and neighbors," Abbott said in a statement.
Authorities in San Marcos, Texas, ordered residents to evacuate as flood waters rose, after torrential rains that turned streets into meandering rivers.
Vehicles were submerged and people used inflatable lounge chairs to float down the street in surreal scenes.
At least 12 people have been reported missing in Texas, said Kharley Smith, emergency response coordinator for Hays County, which includes San Marcos.
She said people were forming their own search parties along the Blanco River, while saying the effort was dangerous.
"We have local resources, regional and state assets that are actively doing search-and-rescues," Smith told a news conference. "It is not safe for the general public to go down and do those rescue or search operations themselves."
The city council said the river had broken records set in the 1920s.
The US National Weather Service said that strong to severe thunderstorms were expected across a large stretch of the central and southern plains toward the Mississippi River Valley.
Comments will be moderated. Keep comments relevant to the article. Remarks containing abusive and obscene language, personal attacks of any kind or promotion will be removed and the user banned. Final decision will be at the discretion of the Taipei Times.