Thirty activists leave for DMZ peace march
NORTH-SOUTH DIVIDE: US human rights campaigner Gloria Steinem and 29 other activists are to hold two peace walks and a symposium in the North
With tears, songs and laughter, 30 women set off from Beijing yesterday on a controversial trip to North Korea, where they will cross the heavily fortified demilitarized zone (DMZ) to the South in a call for peace on the divided peninsula.
The activists, including veteran US women's rights campaigner Gloria Steinem, plan two peace walks and a peace symposium in North Korea, said Christine Ahn, international coordinator for the group called WomenCrossDMZ.
North and South Korea are technically still at war after the 1950-1953 Korea War ended in a truce, not a peace treaty. The North has been slapped with sanctions for its nuclear weapons tests and a UN inquiry has detailed wide-ranging abuses in the country, including prison camps and torture.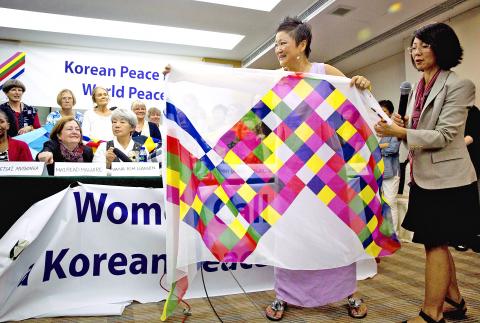 South Korean Chung Hyung-kyung, second right, and Christine Ahn, right, coordinator of the WomenCrossDMZ group, show a Korean Saekdong fabric, which the activists say they will wear when they cross the heavily fortified demilitarized zone (DMZ), during a press conference yesterday before they leave for Pyongyang, at a hotel in Beijing.
Photo: AP
Ahn, a Korean-American, said it was time to try a different approach to solving the crisis, brushing off criticism that the walk is a naive publicity stunt.
"We have no illusions that our walk can basically erase the conflict that has endured for seven decades," Ahn told reporters, brushing away tears at one point.
"I believe that we are, basically by crossing the DMZ, breaking through this mental state that this is a permanent division," she said.
Despite its name, the DMZ is one of the most heavily militarized borders in the world. There are just three official inter-Korean border checkpoints where it is possible to cross between the two Koreas, although such crossings are rare.
Both the North and the South have given the women permission for the walk, planned for Sunday, International Women's Day for Peace and Disarmament. However, the group had yet to hear from the UN Command, which is in charge of the Panmunjom border crossing, where North and South Korean soldiers stand across from each other in a daily face-off.
The activists would "meet hundreds of North Korean women," tour a maternity hospital, a children's preschool and a women's factory in Pyongyang, Ahn said.
Simon Wiesenthal Center associate dean Abraham Coope and Committee for Human Rights in North Korea executive director Greg Scarlatoiu wrote in the Washington Post that "any sanctioning of a peace march by North Korea can be nothing but human rights theater."
Steinem said the women were engaging with the North because "it seems to me that the past of no contact has not worked."
"Ronald Reagan stood outside the Berlin Wall and said: 'Take down this wall,'" she said. "We are saying: 'Take down this isolation.'"
Comments will be moderated. Keep comments relevant to the article. Remarks containing abusive and obscene language, personal attacks of any kind or promotion will be removed and the user banned. Final decision will be at the discretion of the Taipei Times.