Milan Expo opens with clashes
MIXED DEBUT: As protests welcomed the world's fair, participants described problems that meant many pavilions and exhibits were only partially operational
The opening of Expo Milano was marred on Friday by violent clashes between police and dozens of demonstrators opposed to Milan's hosting of the world fair.
Police officers fired tear gas at stone-throwing protesters wearing balaclavas or gas masks who had smashed windows and torched several cars and bins during a "No Expo" march that organizers said had brought 30,000 people onto the streets.
Water cannons were used to put out blazes, including one at a bank branch where the wall had been spray-painted with the words: "You've skinned us, today you pay."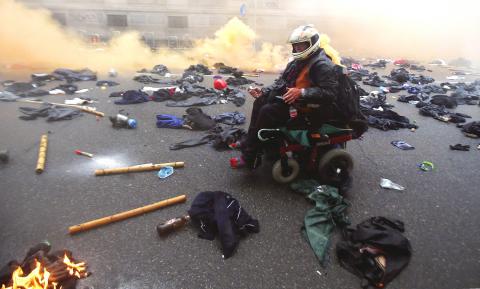 A protester in a wheelchair passes through discarded clothes used by protesters during a rally against Expo Milano in Milan, Italy, yesterday.
Photo: Reuters
The violent scenes left parts of Milan's elegant center looking like a battle zone, giving a bittersweet start to a six-month food-themed event that Italy hopes will bolster its international standing and boost its struggling economy.
"The authentic face of Milan is the positive, noble and handsome one displayed to the world and the future at Expo's opening, not that of these vandals who confront the security forces, to whom the government is very grateful," Italian Prime Minister Matteo Renzi said in a statement.
Police made at least 10 arrests, and a similar number of police were injured in clashes that had been anticipated for weeks.
Thousands of visitors poured into the specially created expo site on the edge of Milan.
After months of concern about delays, partly linked to a corruption scandal that hit the organization last year, it appeared that most of the key construction work for the event had been finished in the nick of time.
However, there was grumbling from participants over organizational problems that meant many of the pavilions and exhibits were not fully operational.
Declaring the festival open, Renzi insisted that Milan and Italy had defied the critics.
"They said we would never do it, but today the Expo is a reality," Renzi said.
However, many participants complained.
Belgium's pavilion opened with only a food-themed diamond exhibition on display and none of the country's celebrated beer and fries to serve up.
"The beer is in a warehouse 500m from here, but we could not bring it in because the site was sealed off for a security sweep until 3am this morning," pavilion restaurant manager Sebastien Steven said. "We feel a bit let down. There has been a lot of disinformation."
Bangladesh reported similar problems.
"We cannot open because we do not have any staff," operations manager MD Abdul Matin said. "Our display was to be mainly cooking-based, but the chefs and other staff were all due to come from Bangladesh, and the Italians have not granted their visas."
An official at Ireland's pavilion said: "Problems? Just a bit. Anything to do with accreditation here has been a complete nightmare."
Ticketless visitors arriving by underground train faced 90-minute waits in the rain to get into the custom-built, 110-hectare site.
That was due to a combination of ticketing software problems and long lines for the airport-style security scanners.
Among those whose patience was tested were a mother and son from New Delhi who were supposed to be inside opening a stall selling Indian crafts for their nonprofit organization
They told reporters that organizers had been unable to provide them with security passes in time due to "backlogging" in the processing of participants.
"I have been going to world exhibitions since Montreal in 1967 and I have never seen anything like this. We are quite angry," said the woman, who did not want to be identified.
Unable to have any of their craft items delivered, her son was carrying as many as he could in two large sacks.
"We have paid 200,000 euros [US$224,010] to have the stall for the six months and we are having to buy daily tickets for 39 euros each just to get in. It is ridiculous," he said.
Organizers insisted that the problems would be ironed out quickly.
However, the "No Expo" movement does not look as if it is going away.
"Our generation does not want this corporate bullshit," a woman who gave her name as Annalisa said.
The protesters have been angered by the event's reliance on volunteer workers, the involvement of corporations like McDonald's Corp and the Coca-Cola Co, and a perception that much of the public money plowed into the project has been lost to corruption.
Italy secured the rights to host the expo seven years ago, long before Renzi came to power last year.
However, he embraced it as an opportunity for the nation to show the world that it is regaining its confidence and reinventing itself under his leadership.
The event plays to food-loving Italy's strengths with its nutrition and gastronomy-based theme of "Feeding the Planet, Energy for Life."
Organizers are predicting 20 million visitors over six months and a 10 billion euro economic boost.
Comments will be moderated. Keep comments relevant to the article. Remarks containing abusive and obscene language, personal attacks of any kind or promotion will be removed and the user banned. Final decision will be at the discretion of the Taipei Times.