Lagos vote consolidates Nigeria rule
CHANGING TIMES: Violence delayed voting elsewhere, but winning the governor's seat in Lagos State puts Muhammadu Buhari's party in an unprecedented position
The All Progressives Congress (APC) party of Nigerian president-elect Muhammadu Buhari has retained the Lagos State governorship, Nigeria's electoral commission said on Sunday, consolidating his administration's power by giving it control of the commercial capital.
While voting was extended in several other states due to violence or voting irregularities, the result in Lagos means that — for the first time since the end of military rule in 1999 — the governor of that key state and the president are to be from the same party.
Observers said turnout was low in the vote to elect 29 governors and all state assemblies, compared with the presidential vote last month that was considered the freest and fairest yet, and that paved the way for Nigeria's first democratic transfer of power, with Buhari beating Nigerian President Goodluck Jonathan by a landslide.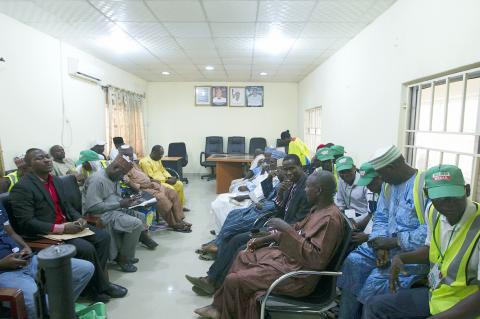 Party agents and journalists wait for the announcement of results in governorship and state assembly elections at an electoral commission office in Jalingo, capital of Nigeria's Taraba State, on Sunday.
Photo: Reuters
The fear of violence at polling stations — justified in some cases — mixed with voter apathy, kept many Nigerians at home, observers said, even though the governors are among Nigeria's most influential politicians, with budgets larger than those of some small nations.
At least 10 people were killed in election violence on Friday and Saturday, including a politician in Ebonyi State from Jonathan's People's Democratic Party (PDP), who was shot in his home, police said.
More than a dozen people were killed during last month's presidential election, mainly due to attacks by Boko Haram extremists, but one election monitor said violence was worse this weekend.
"I think it was worse than the presidential vote... We have had more reports of fights and skirmishes around polling areas," Policy and Legal Advocacy Center executive director Clement Nwankwo said.
Tensions were particularly high in oil-rich Rivers State on the Niger Delta, where Governor Rotimi Amaechi has been feuding with Jonathan since defecting from the PDP to the APC two years ago.
A large protest in the state capital, Port Harcourt, shoot-outs in several towns, attacks on electoral commission property and reports of ballot boxes being snatched delayed the start of voting.
Amaechi called the polls a "sham."
The Independent National Electoral Commission canceled the vote in all parts of Rivers where materials had been taken and called fresh elections in some areas.
The commission reported 66 instances of violence at polling stations, with the highest number in Rivers and other southern states.
In the southeastern state of Akwa-Ibom, the APC demanded a fresh election, and protesters gathered in front of the commission's headquarters in the state capital, Uyo.
"The protesting crowd numbered [more than] 150... There are burned tires along the Udo Uduma Avenue, and street traffic lights were destroyed. There is a heavy police presence," witness Edet Udo told reporters.
Retaining Lagos is important for the APC, as the city of 21 million people generates up to a third of Nigeria's GDP, with an economy twice the size of Kenya's.
Outgoing Lagos Governor Babatunde Fashola, of the APC, is credited with transforming the metropolis with infrastructure projects, although he has also been criticized for slum clearances.
Comments will be moderated. Keep comments relevant to the article. Remarks containing abusive and obscene language, personal attacks of any kind or promotion will be removed and the user banned. Final decision will be at the discretion of the Taipei Times.