Last voyages for the ship that links Saint Helena to the world
Recalling a bygone era of stately passenger liners and quaint colonial traditions, the RMS Saint Helena is making its last journeys before weekly flights to the far-flung South Atlantic island are introduced.
A day on board the five-day cruise to rugged Saint Helena, one of the world's most remote inhabited islands, is marked by aristocratic pastimes alien to modern travelers accustomed to no-frills long-haul journeys.
It is a taste of luxury that will not be around for much longer, on board a nearly 7 tonne ship built in 1989 to carry passengers and goods across the ocean.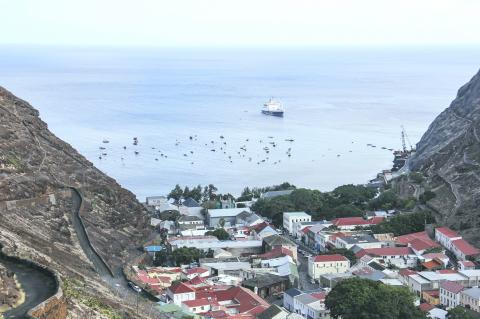 The RMS Saint Helena lies anchored in a bay off the coast of Jamestown, Saint Helena, on March 17.
Photo: AFP
A final chance to experience a slower way of life has spiked interest in the RMS Saint Helena, said John Hamilton, the cheerful purser who organizes activities on board, from card games to on-deck cricket matches.
"The ship is coming to the end, so more people want to travel before she stops working," Hamilton said.
The shipping company has added a dozen cabins to meet demand before the ship cuts back on its trips when four-and-a-half-hour flights from Johannesburg begin in February next year.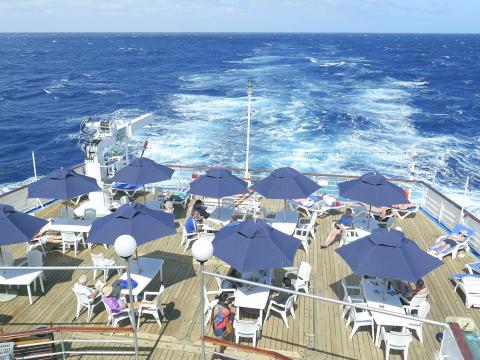 Passengers sit in the sun on the main deck of the RMS Saint Helena as they sail toward the South Atlantic island of Saint Helena on March 6.
Photo: AFP
The RMS Saint Helena — the only passenger ship serving the British island — makes the journey from the South African city of Cape Town every three weeks.
The boat travels 3,100km in five days at 15 knots, before heading to Ascension, another British island.
The ship's Web site describes the vessel as a lifeline for island residents, carrying everything from "wind turbines to automotive parts; sheep, goats and Christmas turkeys to furniture, food and paint."
Passengers sip tea or coffee served by staff in their cabins before breakfast. They play traditional games such as deck quoits and shuffle board, and then share a heartwarming beef tea — or Bovril — at 11am.
After lunch, entertainment includes documentary film screenings and a quiz game similar to Trivial Pursuit.
Passengers spend time reading or swimming in the small pool on deck, knitting or working on puzzles, as their ship cuts through the sparkling blue waters.
The activities are not mandatory, yet they do allow for fast-forming friendships.
It is good to form bonds on board, as passengers will inevitably cross paths with each other in Jamestown, the tiny capital of Saint Helena with a population of about 850.
"What is amazing is that you meet people onboard and make friends. You become like family — almost," said Manuela Patterson, a tourist from Cape Town. "It's going to be different in that aspect once the airport is here."
Built in Aberdeen, Scotland, the ship can accommodate 150 passengers. It is one of the world's two surviving Royal Mail Ships — abbreviated to RMS.
As one might expect on such a ship, there are some eclectic travelers on board.
The cast of characters runs from the Saints — the local name for Saint Helena citizens — to South African tourists, Thai workers heading to build the new airport and a retired British vice admiral recounting his grisly stories from the Falklands War.
"I will miss the journey to the island," said Sandra Isaac, an island native who has lived in England for the past 25 years.
Still, Isaac said she is looking forward to the flights, as she will not have to request extra leave from her employer to cover the 10-day journey when she goes on holiday.
Prices for a one-way ticket range from £430 (US$640) to £2,070 — and much more if you do not want to share your cabin.
The schedule for the RMS Saint Helena will run until April next year, two months after the airport opens.
Then what?
There is talk of a final cruise, perhaps northwards to England, before the ship is most probably sent for scrap.
Comments will be moderated. Keep comments relevant to the article. Remarks containing abusive and obscene language, personal attacks of any kind or promotion will be removed and the user banned. Final decision will be at the discretion of the Taipei Times.