French ex-mayor found dead before weddings trial
The Tours city project was simple enough: Lure Chinese couples to get married in the heart of the Loire Valley — romantic French castle country — as a way to boost the area's economic and cultural fortunes.
It soon went awry. First, the project got bogged down in corruption allegations. Then on Tuesday, the scandal took a deadly turn with the apparent suicide of former Tours mayor Jean Germain, as he was to go on trial with four other defendants in a case of alleged kickbacks and misuse of public funds.
Adding to the drama, another key defendant, Taiwanese-born Lise Han — who devised the plan and worked at City Hall to drum up Asian business — told investigators that she had had a secret love affair with Germain. One lawyer in the case said the ex-mayor had always denied that claim.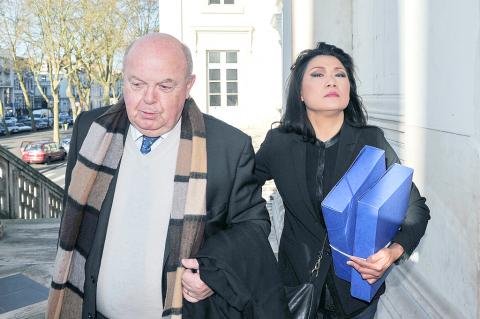 Lawyer Gerard Chautemps, left, and defendent Lise Han arrive at the court house of Tours, France, on Tuesday.
Photo: AFP
The apparent suicide was likely to cast a pall over the fairytale weddings of some Chinese couples who took up the city's pitch as a romantic spot for tying the knot.
France's body politic was shaken. The French Senate, where Germain had a seat as a Socialist senator, held a moment of silence to honor his memory on Tuesday.
French President Francois Hollande expressed his sadness, saying Germain had taken his own life "because he didn't want his honor sullied."
Prosecutors began looking into the scam in 2011, following news reports noting that the city was luring already married Chinese couples for the fake wedding ceremonies.
Minutes into the trial on Tuesday, Germain's lawyer announced that a colleague had found a suicide note. The former mayor's body was found later in town. The court abruptly adjourned until Oct. 13.
French TV news reports showed white-suited forensic teams in Tours, and broadcast archive images of Germain giving the traditional French bise cheek-kiss to one bride in an ornate ballroom filled with dozens of Asian couples.
The trial centers on alleged kickbacks linked to 750,000 euros (US$815,000) that Tours spent to lure Asian visitors between 2008 and 2011, officials said.
The city spent tens of thousands of euros on things like a stand at the Shanghai World Expo in 2010 and sending a delegation of dozens of representatives to China, one defense lawyer said.
Germain, 67, was facing charges including misuse of public funds, according to court documents, though not of benefiting financially himself. Han and her associates were the main suspected beneficiaries of the plot.
As mayor for nearly two decades until last year, Germain presided over the weddings.
The city's effort to lure Chinese newlyweds ended after the suspected wrongdoing came to light.
According to court documents, Han alleged she had had an amorous relationship with Germain. Lawyer Gerard Cebron de Lisle, who is representing the city in its effort to recoup some of 500,000 euros in estimated losses, said Germain never admitted to that claim.
Comments will be moderated. Keep comments relevant to the article. Remarks containing abusive and obscene language, personal attacks of any kind or promotion will be removed and the user banned. Final decision will be at the discretion of the Taipei Times.