Red Cross says situation 'catastrophic' in Yemen's Aden
The Red Cross on Tuesday warned of a "catastrophic" situation in Yemen's main southern city, Aden, as forces loyal to the president battled Iran-backed Shiite rebels in the streets.
The Houthi rebels and their allies made a new push on a port in the central Mualla district of the city, but were forced back by militia supporting Yemeni President Abd Rabbu Mansour Hadi, witnesses said.
Naval forces of the Saudi-led coalition, which has carried out nearly two weeks of airstrikes in support of Hadi, shelled rebel positions across the city, the witnesses said, though the coalition denied launching a naval combat operation.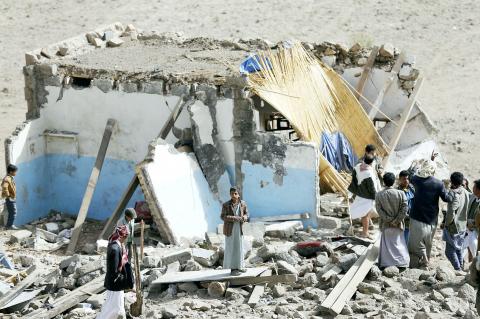 People gather around the wreckage of a house destroyed by an air strike in Bait Rejal, Yemen. The strike killed three women and three children from one family on Tuesday, local media reported.
Photo: Reuters
International Committee of the Red Cross spokeswoman Marie Claire Feghali said the humanitarian situation across Yemen was "very difficult ... [with] naval, air and ground routes cut off."
The situation in Aden was "catastrophic to say the least," she said.
However, Coalition spokesman General Ahmed Assiri said many parts of the city remained "stable."
Doctors Without Borders (MSF) said the situation was "worsening by the day."
Medics in Aden had "not received large numbers of casualties over the past few days ... due to the difficulties faced in trying to reach a hospital," MSF's Marie-Elisabeth Ingres said.
MSF has a team of 140 local staff and eight expatriates at a hospital in Aden.
"Our priority is to find a way to send a supporting medical team," Ingres said, adding that a team was waiting in Djibouti "for a green light from the coalition."
Ingres yesterday said the first boat carrying medical aid to Yemen since the Saudi-led bombing campaign began has arrived in Aden. She said the ship carried about 2.5 tonnes of supplies from Djibouti for the MSF hospital in Aden.
She said the group was concerned about how it will transport the supplies and wounded people given the chaos in Aden's streets.
The Red Cross hoped to deliver 16 tonnes of medical aid to Sana'a yesterday on a plane loaded in Jordan. Another plane carrying twice as much could follow today.
Two students were killed and several others wounded on Tuesday when a rocket hit a school near al-Hamza military base in the southwestern Ibb Province, an official said, adding that it was unclear if the school was hit in an airstrike or by Houthi artillery.
Rebel-controlled Saba news agency accused coalition warplanes of hitting the school.
Coalition strikes killed at least eight Houthis north of Aden, a military source said, as raids also targeted air defense posts in Taez Province, as well as al-Sadrayn military base in Daleh Province.
Nationwide, more than 540 people have been killed and 1,700 wounded since March 19, the WHO said.
At least 74 children had been killed since the coalition strikes began on March 26 — though the real figure is thought to be much higher — and more than 100,000 displaced, according to the UN.
Observers have warned that al-Qaeda could exploit the fighting to expand its control following the withdrawal of US troops overseeing a longstanding drone war against it.
The US, which sees al-Qaeda's Yemen franchise as its most dangerous, has "expedited weapons deliveries" in support of the Saudi-led coalition, US Deputy Secretary of State Antony Blinken said.
The Gulf states are also pushing for UN sanctions to be imposed on Houthi leader Abdulmalik al-Houthi and former Yemeni president Ali Abdullah Saleh's eldest son, Ahmed, adding them to a list of three others, including the former president, hit by a global travel ban and asset freeze in November last year.
Additional reporting by AP
Comments will be moderated. Keep comments relevant to the article. Remarks containing abusive and obscene language, personal attacks of any kind or promotion will be removed and the user banned. Final decision will be at the discretion of the Taipei Times.