Nigeria's neighbors hope for a fresh start with Buhari
Surveying the charred ruins of the northern Nigerian town of Malam Fatori, which Chadian troops and his own soldiers from Niger liberated from Boko Haram last week, Colonel Toumba Mohamed paused to reflect on Nigeria's landmark election.
As the two nations' forces poured into the border town on Tuesday, driving out the Islamist fighters, Nigeria's election commission was announcing the victory of opposition candidate Muhammadu Buhari.
"We hope that finally the armies of Chad and Niger will be able to fight Boko Haram side by side with the Nigerian army," said Toumba, who expects to see changes when Buhari, a former general and Muslim from the north, is sworn in.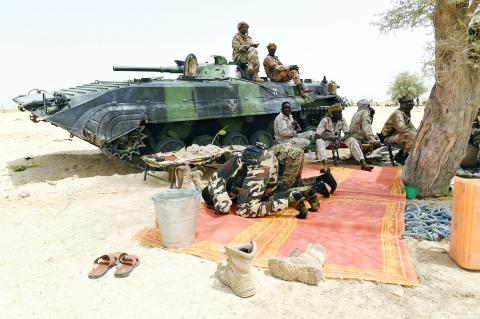 Chadian soldiers pray next to an armored vehicle near Malam Fatori, Nigeria, on Friday, after the town was retaken from Boko Haram by troops from Chad and Niger.
Photo: AFP
Boko Haram's six-year insurgency in northern Nigeria, and outgoing Nigerian President Goodluck Jonathan's failure to decisively counter the threat, were a key issue in the Nigerian election.
Gains by the extremist movement, which is seeking to carve a caliphate out of Nigeria's northeast, even forced a poll delay as a regional force launched an offensive to drive them back.
However, it has been Chad's battle-hardened troops, and not Nigeria's, that have led in the offensive, expelling Boko Haram from the major towns in the north in just a matter of weeks.
Malam Fatori was one of the group's last border footholds.
The fall of the town marked the end of the first phase of regional action, General Seyni Garba, Niger's army chief of staff, told private Niger television station Tenere.
"The second phase is to secure the whole of the conquered territory with mopping up operations everywhere that Boko Haram can be found. We need to be able to secure the whole of the Lake Chad basin," he said on Sunday.
Buhari has called Nigeria's reliance on neighboring armies a disgrace and has vowed to restore the territorial integrity of Africa's most populous nation. There is still work to be done.
Boko Haram set Malam Fatori on fire before withdrawing to the former Nigerian army camp outside of town to dig in and fight. In clashes on Wednesday, 170 militants were killed, while nine Chadian soldiers were killed and 16 were wounded.
To date, problems of communication and coordination have stymied military cooperation between Nigeria and its neighbors.
It has also struggled to overcome distrust between armies that have not always fought on the same side. Chad occupied parts of Nigeria's north in the 1980s.
Comments will be moderated. Keep comments relevant to the article. Remarks containing abusive and obscene language, personal attacks of any kind or promotion will be removed and the user banned. Final decision will be at the discretion of the Taipei Times.