Syrian civil war talks begin, but without opposition
CONSPICUOUS ABSENCE: Members of the 'tolerated' domestic opposition NCCDC are to attend the Russia-led talks, but not the exiled opposition National Coalition
Talks on ending the Syrian civil war opened in Moscow yesterday, but with key opposition figures absent, little progress is expected on resolving the shifting conflict.
Instead, the discussions are expected to focus on humanitarian issues and serve as a way for Russia, a main backer of the Syrian regime, to build its profile as a potential mediator in the conflict.
"It will be the first meeting after the US-Iranian [nuclear] deal, and [US Secretary of State] John Kerry declined to rule out talking to [Syrian] President Bashar al-Assad," the Paris-based Institute for International and Strategic Studies' Karim Bitar said.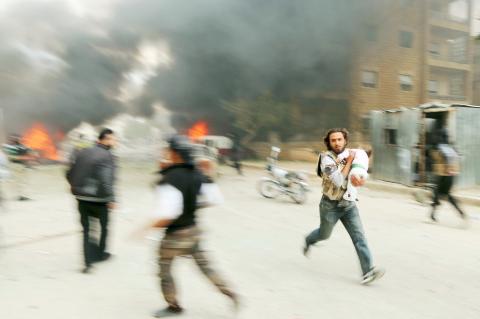 A man runs with an injured child at a damaged site after what activists said was shelling by forces loyal to Syrian President Bashar al-Assad in Idlib, Syria, after rebels took control of the area on Sunday.
Photo: Reuters
"Given that context, one might have hoped for progress, but all indications are that there won't be any," he told reporters. "No political breakthrough can be expected."
"The regime still does not seem ready to make any concessions, and even the more-or-less tolerated opposition is being subjected to harassments that will prevent them taking part," Bitar said.
Syria's government is to be represented by its UN envoy, Bashar al-Jaafari, and members of the domestic "tolerated" opposition, the National Coordination Committee for Democratic Change (NCCDC), are to attend.
However, the main Western-backed exiled Syrian opposition National Coalition is not expected to be there, and another leading domestic opposition activist remains under a travel ban.
Louay Hussein, who heads the Building the Syrian State party, told reporters that Damascus had refused to lift a travel ban imposed following his release on bail in February after three months in jail.
He is still awaiting an April 29 verdict on charges of having "weakened national sentiment."
Yehya Aziz, a member of the NCCDC's executive committee, told reporters that the talks were expected to focus mostly on humanitarian issues, and the possibility of reviving a political process based on previous negotiations in Switzerland.
"The talks will only discuss 'soft' subjects on which agreement might be found," one source close to the regime delegation confirmed.
According to Bitar, the talks are to largely serve to bolster Moscow's profile as a potential deal broker, despite its strong alliance with the government.
"The main objective is for Russia to raise the al-Assad regime's profile and to position itself as an indispensable power when the climate becomes more favorable for an international diplomatic solution," he said.
The opposition National Coalition, accusing Russia of seeking to bolster al-Assad, has declined to attend, and finds itself increasingly sidelined by powerful regional actors such as Saudi Arabia and Egypt.
Cairo is expected to host a meeting of about 150 opposition figures at the end of this month, with talk of the creation of a new opposition body that could rival the National Coalition.
"Moscow's idea is that the new opposition would negotiate with the regime, in Moscow, in the near future, but the key sticking point remains al-Assad's role going forward," an Arab diplomat following the developments told reporters.
Most of Syria's opposition in exile has made it clear that al-Assad must step down in any deal to end the conflict that began with demonstrations against his rule in March 2011.
The diplomat said one proposal now being floated would see al-Assad stay in power for two or three more years to prepare a transition, particularly given Russian and US fears about the consequences if his regime were to collapse suddenly.
"This solution would allow all the parties to save face," one opposition member involved in the discussions said.
The window for any such agreement is fairly small, with Washington reportedly insisting that any deal be signed before campaigning for next year's US presidential election begins in earnest in the autumn.
"Washington is ready to let Moscow hold as many meetings as it needs, but any deal must be signed ... before the autumn, otherwise it will be too late," the opposition member said.
Comments will be moderated. Keep comments relevant to the article. Remarks containing abusive and obscene language, personal attacks of any kind or promotion will be removed and the user banned. Final decision will be at the discretion of the Taipei Times.