Indian nurses in Yemen weigh debts against danger
Hundreds of Indian nurses caught up in Yemen's civil war face a stark choice between returning home to financial ruin or taking a chance by staying on in more lucrative jobs that allow them to pay off their debts.
India is trying to get about 4,000 nationals, more than half of them nurses, out of Yemen, where Shiite Houthi fighters have swept into the southern port city of Aden despite an air campaign led by Saudi Arabia to check their advance.
The medics' predicament highlights the dilemma facing Indian health workers, many from poor families who borrow heavily to educate their children and send them abroad to earn the money back.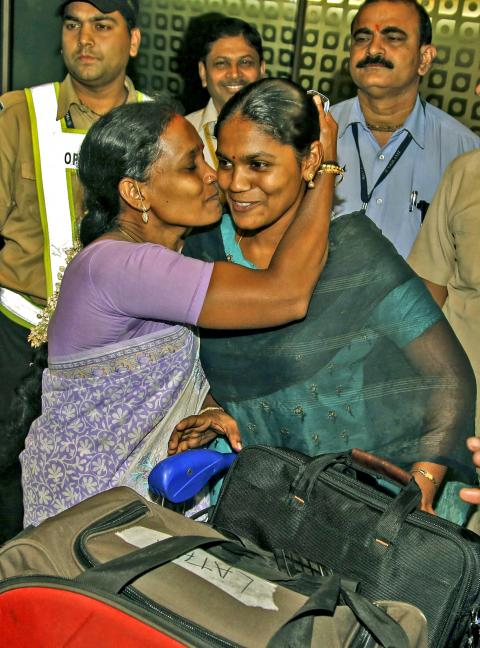 A woman greets a relative who was evacuated from Yemen as Indian evacuees arrive at Chhatrapati Shivaji International Airport in Mumbai, India, on Thursday.
Photo: EPA
The debts are sometimes owed to middlemen who charge exorbitant fees to place Indians in jobs abroad, and the government has moved to crack down on the practice by banning foreign recruitment by private companies nationwide.
"For now, I am staying," Indian nurse Meljo Joy told reporters by telephone from the al-Naqib Hospital in Aden.
The native of the southern state of Kerala, where most of the Indian nurses in Yemen are from, chose not to board an Indian naval vessel that evacuated 349 people on Tuesday from the city, preferring to take a chance despite the fighting.
"In New Delhi, a famous hospital will pay a maximum of US$400 [per month] as salary," Joy, 27, said. "However, accommodation and food are very expensive... It [Yemen] is good for me, because I get to save and keep my salary in the bank."
Joy paid US$2,000 to a recruitment agent to land a job in Yemen. He earns US$600 a month, receives free housing and sends money to his family to pay off a tuition loan.
As well as those taken from Aden, India has airlifted 80 people from the capital, Sana'a, but it has been unable to send in more flights because Riyadh, which maintains air supremacy Yemen, has not opened a safe air corridor.
More than 100 nursing institutes in Kerala train thousands of graduates every year, with more studying outside the state, depressing local wages and creating a strong incentive to seek better pay abroad.
Monthly wages at hospitals in Kerala start at 5,000 rupees (US$81), then rise with experience and seniority to 25,000 rupees.
Fierce competition for jobs abroad, meanwhile, puts nurses at the mercy of recruiters who sometimes demand large initial fees or renege on promises of more pay and safe contracts.
Following a raid last week by tax officials on the office of one agency in the Keralan port of Kochi, India's Central Bureau of Investigation has opened an inquiry into suspected corruption, conspiracy and cheating.
Investigators said the Al Zafara job agency charged an upfront fee of 1.95 million rupees — 100 times the legal amount — when it was hired to recruit 1,200 nurses for jobs in Kuwait.
Despite complaints by applicants, Kochi's official Protector of Emigrants — identified as L. Adolfus — failed to take action, investigators said.
Contacted by reporters, Adolfus rejected charges of colluding with the company and taking bribes.
As part of broader efforts by Indian Prime Minister Narendra Modi to improve the pay and conditions of Indian migrant workers, New Delhi has imposed a nationwide ban on foreign recruitment of nurses by private companies.
Beginning next month, only two state recruitment agencies will be allowed to operate in Kerala, charging modest fees and working through legitimate diplomatic channels to curb alleged bribery in destination countries.
"We are planning to recruit in a transparent manner, without giving any room for any sort of complaints," Keralan Minister for Non-Resident Affairs K.C. Joseph said.
For A.A. Joseph, a farmer whose daughter Sini Elizabeth has gone to work in Sana'a, the changes come too late.
The family took on debts of 250,000 rupees to train Sini and get her a nursing job in Yemen. When she got there, she was paid 20,000 rupees a month — half what she was promised.
"I do not know what we will do when Sini returns; the money I make from my farm is not enough to meet our daily expenses," Joseph said.
If his 26-year-old daughter is not working, her marriage dowry would become unaffordable, he added.
For now, Sini is stuck in Sana'a, but has reluctantly registered to fly home on an Indian evacuation flight.
Comments will be moderated. Keep comments relevant to the article. Remarks containing abusive and obscene language, personal attacks of any kind or promotion will be removed and the user banned. Final decision will be at the discretion of the Taipei Times.