Good Friday ritual draws thousands to Philippines
Devotees in the fervently Catholic Philippines marked Good Friday by being nailed to crosses and whipping their backs bloody, in extreme acts of devotion that attracted thousands of spectators.
The annual ritual in scorching hot farmlands just outside of Manila is one of many colorful outpourings of faith in the Southeast Asian nation, where 80 percent of its 100 million people are Catholics.
"I feel no pain, because I know I am one with my God in suffering," 30-year-old construction worker Arjay Rivera told reporters before he slit his back with broken bottles and razors, later whipping himself with bamboo flails to keep the wounds open.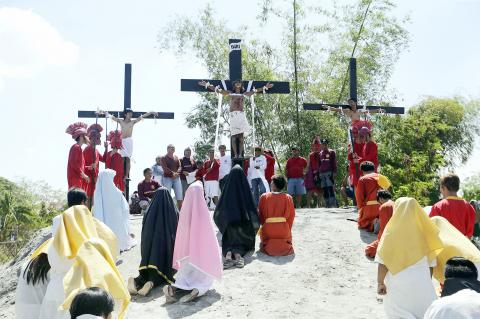 Filipinos in costumes kneel in prayer before penitents nailed to wooden crosses during a re-enactment of the crucifixion of Jesus Christ during a Good Friday ritual in San Fernando's San Juan village in the Philippines yesterday.
Photo: EPA
As the flagellants made an excruciatingly slow barefoot march to the hill in San Juan, a rural district of San Fernando north of Manila where the crucifixions were to take place, some of them stopped at times to lay face down on the hot pavement and allowed children flog them with twigs.
Five men had nails hammered through their palms and feet, while four others, some with fake beards drawn on their faces to resemble Christ, were tied to the crosses.
They wailed in pain as attendants, costumed as Roman centurions, pounded the nails through their palms.
"My faith got me through my illness. I will continue doing this for as long as I live," one of the men, Wilfredo Salvador, told reporters after he was taken down from a cross, his hands and feet wrapped in bandages.
"It was painful up there, but I felt light. I can't explain it. I would say my faith is very strong," added the 50-year-old, who said he had recovered from a nervous breakdown several years ago.
Several of the men have undergone multiple crucifixions over the years.
San Fernando Archbishop Florentino Lavarias has discouraged the bloody practice, saying there were other ways to profess faith.
"Our acts should be geared toward good works. Christian life is not something that is done overnight," he counseled.
San Fernando Mayor Edwin Santiago openly conceded that the religious ritual has vast economic benefits for the community.
He said last year's Holy Week events drew about 60,000 foreign and local visitors, and he is hoping for more this year.
"We don't have the exact record of the money ... but for sure the Good Friday activities help our locals in their businesses," he said.
Foreign tourists who flocked to the spectacle reacted with both shock and fascination.
"It's quite gross and bloody. I would never have a selfie taken here," Jorene Chai, a 26-year-old tourist from Singapore, told reporters.
She and three other friends made a side trip to the site from a food tour of Pampanga Province.
Waldemar Traczyk, 50, a history professor from Poland, said he saved up for seven years so he and his wife could fly to the Philippines to witness yesterday's events.
"This is too much blood ... but it is interesting to know why a 17th century practice in Europe still persists in the Philippines," Traczyk told reporters.
The Philippines is known around the world for its fervent brand of Catholicism, which was introduced by Spanish colonizers in the 1500s.
An annual procession of Christ's image in downtown Manila drew 5.5 million barefoot devotees in January, authorities said.
A mass by Pope Francis in the capital's main outdoor park a week later drew a record crowd of 6 million people.
Comments will be moderated. Keep comments relevant to the article. Remarks containing abusive and obscene language, personal attacks of any kind or promotion will be removed and the user banned. Final decision will be at the discretion of the Taipei Times.