Thousands join Ukrainian 'unity rally'
Dneprotrovsk residents on Saturday held what they called a "unity rally" meant to help mend a rift between Ukrainian President Petro Poroshenko and the regional governor he fired and ease worries that Ukraine, on top of everything else, is at risk of unraveling into privately ruled fiefs.
The country seemed to be teetering in that direction last week, when Poroshenko dismissed Igor Kolomoisky, the billionaire governor of Dneprotrovsk, an important industrial region in the east, apparently for sending armed loyalists to Kiev, the capital, to occupy the offices of two state-owned energy companies that are central to a business dispute.
Kolomoisky had been one of the government's staunchest allies, and his militias had helped stop pro-Russian fighters from moving beyond the eastern regions of Donetsk and Luhansk, where the pro-Russian fighters have been waging war for nearly a year.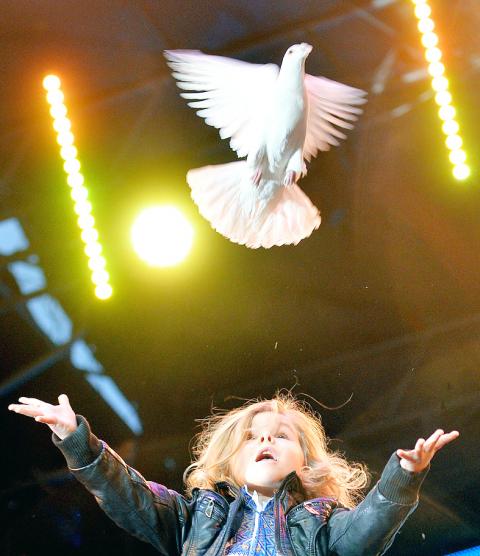 A girl releases a white dove during a rally in Dneprotrovsk, Ukraine, on Saturday evening.
Photo: AFP
However, recently, Kolomoisky had clashed with the government over the future of the energy companies, in which he owned a minority stake.
Masked armed men occupied the offices of the companies — UkrTransNafta and its parent company, Ukrnafta — for five days, until Monday, when Poroshenko ordered Ukraine's state security service to arrest the men.
Kolomoisky emerged from the UkrTransNafta building after his men had seized it on March 19 to say they had just thwarted an attempt by "Russian saboteurs" to take control of the firm and cursed at reporters who asked about his presence there at such a late hour.
The building seizure unsettled Kiev, and members of parliament, worried that other oligarchs with private militias would follow suit, threatening national stability, sharply criticized Kolomoisky.
The rally on Saturday evening was intended to tamp down these tensions and demonstrate that the city, and the former governor, remained loyal to Kiev despite the clash, Kolomoisky supporters said.
"When we have war in our country, we cannot have any internal political disagreement," Borys Filatov, a business partner and political ally of Kolomoisky, said in an interview before the rally. "We are all citizens who understand if we shake the president, the country will fall apart."
A few thousand people gathered in a cold rain on Heroes of Maidan Square and released blue and yellow balloons while politicians spoke dismissively, and to cheers, of the possibility of separatism in the city.
Kolomoisky was shown in a video tribute.
The rally wrapped up with a fervently patriotic set by Ukrainian pop singer Ruslana, who praised the city and its departing leaders for keeping separatism at bay.
Other developments indicated that the breach in Ukraine's domestic politics was mending.
Poroshenko flew to Dneprotrovsk on Thursday to thank Kolomoisky and his team, an event that was televised.
"We parted very well, and we will cooperate," Filatov said. "There were no demands, and no slamming of doors."
Kolomoisky became the most prominent example of a strategy adopted by the new government last winter, first embraced by former Ukrainian prime minister Yulia Tymoshenko, to halt the Russian advance in the country's east by appointing the region's business titans, who were in a position to sponsor private militias, as regional governors.
Kolomoisky, a banking and oil magnate and philanthropist supporting Jewish culture in Ukraine, was an enthusiastic backer.
"The idea was to save the country and save his assets at the same time," Filatov said.
However, the arrangement was always understood to be temporary. Critics of the militias have long warned that they could easily turn against the national government. After the confrontation at the oil company headquarters, Poroshenko said he would take steps to incorporate private militias like those controlled by Kolomoisky into Ukraine's military.
Filatov said the oligarch's backers in Dneprotrovsk were considering forming a political party and would run on their accomplishments this year, including forming the militia and keeping the region out of separatists' hands.
Kolomoisky wanted to use the rally to say goodbye to supporters and reaffirm his patriotism, Filatov said.
"As they say, the English leave without saying goodbye, and the Jews say goodbye without leaving," Filatov said. "And that's us. We're saying goodbye but not leaving."
Comments will be moderated. Keep comments relevant to the article. Remarks containing abusive and obscene language, personal attacks of any kind or promotion will be removed and the user banned. Final decision will be at the discretion of the Taipei Times.