Bergdahl charges revive prisoner swap questions
The tough military charges against US Army Sergeant Bowe Bergdahl have revived the questions and controversy surrounding US President Barack Obama's decision to swap five Taliban detainees to secure his release, as well as the wisdom of the White House fanfare that followed.
Bergdahl, who abandoned his post in Afghanistan and was held captive by the Taliban, was on Wednesday charged with desertion and misbehavior before the enemy. The latter charge as it applies to Bergdahl carries a sentence of life in prison. If convicted on either charge, he could also be dishonorably discharged, reduced in rank and have to forfeit all pay.
Republicans cast the charges as validation of their fierce opposition to Obama's prisoner swap, which Republicans and some Democrats have long criticized as politically motivated and a flagrant violation of US policy against negotiating with terrorists.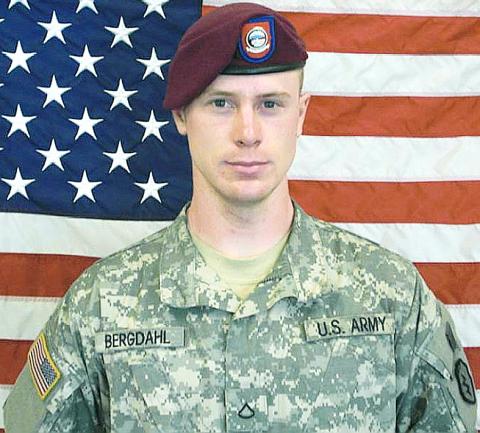 An undated handout photo provided by the US Army shows US Army Sergeant Bowe Bergdahl, who was released from captivity in Afghanistan on May 31 last year after being held by the Taliban for five years.
Photo: EPA
Lawmakers were also furious that Obama authorized the detainees' release from the US prison at Guantanamo Bay, Cuba, without consulting the US Congress, despite federal law requiring him to do so.
"Today's announcement is the exclamation point on the bad deal the Obama administration cut to free five terrorist killers in its rush to empty the prison at Guantanamo Bay," US Representative Ed Royce, the chairman of the US House of Representatives Foreign Affairs Committee, said on Wednesday.
Republican US Senator Roger Wicker, a member of the US Senate Armed Services Committee, said the charges were sure to "raise doubts in the mind of the average American" about the initial trade for Bergdahl.
Bergdahl's attorney, Eugene Fidell, did not respond to a request for comment.
He told MSNBC that the hearing would result in much more information about the sergeant's situation.
"I think at that hearing, people will learn many things that they have not yet been privy to, about Sergeant Bergdahl's conduct, his motivation, his intentions, as well as the details of his captivity at the hands of the Taliban for nearly five years," Fidell said.
The White House had no comment on the charges against the 28-year-old from Idaho, announced as a result of an "impartial review" at Fort Bragg, North Carolina.
The announcement upended speculation that the military might go easy on Bergdahl, given his five years in Taliban captivity.
US Department of State spokeswoman Jen Psaki, speaking on Fox News on Wednesday, defended the swap.
"I think the president's been clear that it's in our national security interest to close Gitmo, but this was about bringing home an individual who served his country," Psaki said.
Bergdahl wandered away from his post on June 30, 2009, after expressing opposition to the war in general and misgivings about his own role in it. The US Army sent several search-and-rescue teams after him.
His former comrades said Bergdahl should be held responsible for several deaths that occurred during those rescue missions.
The Taliban released Bergdahl in May last year, five years after being captured and held by members of the affiliated Haqqani network that operates in Afghanistan and Pakistan.
In exchange for his release, Obama swapped five men held at Guantanamo.
Bergdahl's case now goes to an Article 32 hearing, a procedure that is similar to a grand jury. No date has been set for the hearing, which is to be held at Fort Sam Houston, Texas.
Comments will be moderated. Keep comments relevant to the article. Remarks containing abusive and obscene language, personal attacks of any kind or promotion will be removed and the user banned. Final decision will be at the discretion of the Taipei Times.