Built-up reefs may claim fealty to Beijing: Aquino
SOUTH CHINA SEA: The Philippines has sought UN arbitration in its dispute with China over widely contested claims to islets also claimed by Taiwan
China's reef expansion work in the South China Sea may create inhabited islands that declare allegiance to the government in Beijing, bringing China's military closer to the Philippines, Philippine President Benigno Aquino III said.
Describing such a scenario as "thinking out loud," Aquino nonetheless said that if the reefs were built up enough and populated, "somebody might say: 'We are a new country.'"
Taiwan, China and the Philippines all claim parts of the South China Sea, a body of water that hosts some of the world's busiest shipping lanes. The Philippines has accused China of undertaking large-scale expansion work on contested reefs, including the building of airstrips.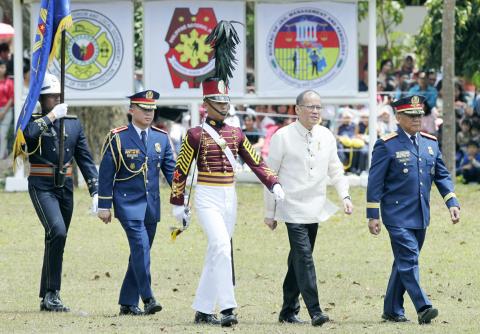 Philippine President Benigno Aquino III, second right, walks after he troops the line in front of this year's graduating class of the Philippine National Police Academy during commencement exercises yesterday at Camp General Mariano Castaneda in Silang, Cavite province, Philippines.
Photo: EPA
"At some point in time they become inhabited. Will that be the basis of a new claim, right of self-determination, 'We want to be part of China?'" Aquino, 55, said in an interview on Wednesday at Malacanang Palace in Metro Manila. "One of these particular islands, the Mischief Reef [Meiji Reef, 美濟礁], is very close to Palawan. Suddenly we are a hop, skip and a jump from their various weapons of war."
'NINE-DASH LINE'
Disputes over the South China Sea, with Taiwan and China claiming about four-fifths of the area under a so-called "nine-dash line" drawn on a 1940s map, have escalated as China expands the reach of its military to back its territorial interests and challenges decades of US naval dominance in the Pacific Ocean.
The tensions risk overshadowing trade and investment ties between China and Southeast Asian nations.
The Philippines has taken its dispute with China to the UN for arbitration; China has declined to participate in the process. Nations including Malaysia and Vietnam also contest parts of the South China Sea.
"Even as we face a formidable challenge, we have the law on our side. International law is the great equalizer," Philippine Secretary of Foreign Affairs Albert del Rosario said at a foreign correspondents' forum in Manila yesterday.
The Philippine efforts are aimed at defining "precisely everybody's rights and obligations with regards to the South China Sea issue, and in that sense provide that environment where we can all come up with the ground rules of how to deal with each other," Aquino said.
China, which has the second-biggest military budget in the world after the US, has been modernizing its defense, with double-digit spending increases on the armed forces in most years. Chinese President Xi Jinping (習近平) has ordered the Chinese People's Liberation Army (PLA) to be ready to "fight and win wars."
China has reportedly allotted 886.9 billion yuan (US$143 billion) for defense spending this year, 10 percent higher than last year and about 45 times bigger than what the Philippines spends.
The latter's defense budget of 144.5 billion pesos (US$3.2 billion) for this year is 17 percent higher than last year, according to Philippine government data.
China's land development activities in the Spratly Islands (Nansha Islands, 南沙群島) are "intended to change the character, status and maritime entitlements" that may undermine the UN tribunal's ability to objectively decide the case, Del Rosario said. "It is clear to us that China is accelerating its expansionist agenda and changing the status quo to actualize its 'nine-dash line' claim."
"What can we do? The realities are population-wise they are 1.3 billion, we are 100 million. They are an economic superpower, they are a nuclear power," he said. "We try not to inflame the situation by answering all their tirades tit for tat."
"The most the Philippines can do and other countries in a similar situation is to say: 'This is how China treats its neighbors,'" Aquino said. "China needs the world, like any other country needs the rest of the world, to continue the growth that it is already doing."
ASEAN
China was the largest trading partner of ASEAN in 2013, with the bloc importing more from the region's No. 1 economy than it exported to it.
The Philippines has been building closer defense ties with other nations as the territorial tensions continue. It signed a memorandum on defense cooperation with Japan and in January agreed with Vietnam to forge a strategic partnership.
The commander of the US Navy Seventh Fleet, Vice Admiral Robert Thomas, last week called on Southeast Asian nations to form a combined maritime force to patrol the South China Sea, having said in January that the US would encourage an extension of Japanese air patrols into the area.
Japan is embroiled in a separate dispute with China over islands in the East China Sea.
Singapore wants India to play a bigger role in the South China Sea, Singaporean Minister of Defense Ng Eng Hen said earlier this month. Aquino indicated that he would support potential combined patrols, alongside a bigger role for both Japan and India in the area.
"If the main issue is freedom of navigation, then the activities of all the countries that you mentioned must bolster that idea that there has to be freedom of navigation for this body of water through which from 40 to 50 percent of world trade must traverse," Aquino said. "Demonstrations of freedom of navigation is I think healthy for everybody."
Comments will be moderated. Keep comments relevant to the article. Remarks containing abusive and obscene language, personal attacks of any kind or promotion will be removed and the user banned. Final decision will be at the discretion of the Taipei Times.