Thousands march against Irish water fees
WASHED UP? The nation must hold a general election by April next year, and protest organizers pledged to ensure water fees become the major political issue in the poll
Tens of thousands took to the streets of Dublin on Saturday in the latest mass protest against new water charges which have sparked widespread public anger.
The first bills for water from the new Irish Water utility are due next month, after the Irish government introduced the charges as a condition of its international financial bailout.
Saturday's demonstration was the latest protest after similar rallies late last year that forced Irish Prime Minister Enda Kenny's coalition government into an embarrassing climbdown, slashing the charges.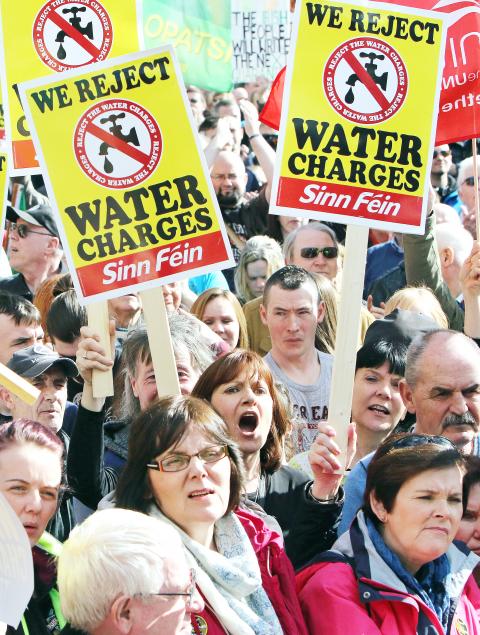 Thousands protest against Ireland's new water fees in Dublin on Saturday.
Photo: AFP
Irish police officers would not provide an estimate on attendees, but organizers put the crowd at about 80,000.
Irish state broadcaster RTE cited observers as saying that from 30,000 to 40,000 people attended.
Dublin capped water charges at 160 euros (US$173) for single households and 260 euros for others, and abandoned plans for pay-as-you-use meters.
However, the Right2Water campaign, an umbrella organization of dozens of local opposition groups that organized Saturday's protest, said the issue was not going away.
"We have one objective and that is to seek a repudiation of the domestic water charges legislation," organizer Brendan Ogle said.
"We are going to ensure this is the major political issue in the next general election," he told reporters.
The Irish government has insisted that the pricing changes they introduced last year provided "certainty, clarity and affordability" for charges.
Irish Water says about two-thirds of those who are liable to pay the new charges have now registered with the utility, which represents 990,000 customers out of an estimated customer base of 1.5 million.
Under the old system, water was paid for through general taxation and services were operated by local authorities.
Many of the crowd carried the flag of anti-austerity opposition Irish republican party Sinn Fein.
The crowd jeered and yelled "traitors," while chanting: "Enda Kenny, not a penny" and "No way, we won't pay."
Roy Murphy from Clondalkin in Dublin was carrying a poster that read: "We reject water charges."
"This is going to kill the government at the next general election. How exactly do they think they have made it affordable?" he told reporters.
Another protester, who identified herself as Deirdre from Dublin, said the issue had become bigger than just water taxes.
"We are already paying water taxes through general taxation. But it is not just this; it is the pension cuts, the property tax," she said. "I am lucky enough to still be working, but there has not been any salary increases in six years, but yet there have been lots of new taxes."
Addressing the crowds, Socialist Party legislator Ruth Coppinger called for a mass campaign of nonpayment when the first bills arrive.
"In 10 days' time, every family in this country will receive a bill. To pay or not to pay, that will be the question," she said. "The only way we can secure the abolition of water charges is by building mass nonpayment."
Ireland must hold a general election by April next year, and the government parties of Fine Gael and Labour are hoping economic recovery will boost their popularity.
Last week, official government data showed that Ireland was Europe's fastest growing economy last year, and the European Commission forecasts a similar achievement this year. Recent opinion polls show a resurgence in support for both government parties.
However, United Left Alliance legislator Joan Collins, who participated in Saturday's protest, insisted that people were seeking an alternative.
"They are absolutely disgusted with this government which is carrying on the austerity measures," she told reporters. "The polls go up and down, but the main date will be the election and that will be the decider."
Comments will be moderated. Keep comments relevant to the article. Remarks containing abusive and obscene language, personal attacks of any kind or promotion will be removed and the user banned. Final decision will be at the discretion of the Taipei Times.