US, Poland hold defense exercises
NO WORRIES? US Army Europe said that the joint exercise aimed to 'reassure [NATO] allies, demonstrate freedom of movement and deter regional aggression'
The US Army Europe has deployed a Patriot missile defense battery near Warsaw as part of joint exercises with Poland aimed at reassuring the NATO member in light of the conflict in neighboring Ukraine.
Poland, a NATO member since 1999, does not have its own system to protect against ballistic missiles and is expected to decide the supplier for its medium-range missile defense system within weeks.
"We have always been friends and we have been allies for the last 16 years," Polish Minister of National Defense and Deputy Prime Minister Tomasz Siemoniak told a joint news conference with the US ambassador on Saturday.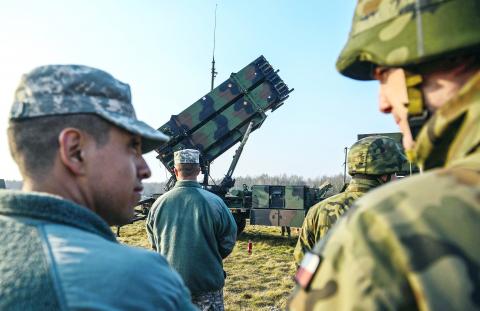 Soldiers from the US, left, and Poland, right, stand next to a US Patriot air defense guided-missile system launcher at a Polish military training ground near Sochaczew, Poland, on Saturday, during the Operation Atlantic Resolve joint military exercises.
Photo: EPA
"During this time, we have always been by the side of the United States. When we are in need, the United States have firmly stood by our side," Siemoniak said.
US Army Europe said last week that the aim of the week-long exercise was to "reassure allies, demonstrate freedom of movement and deter regional aggression on the eastern flank of NATO."
The Patriot missile battery, which is manufactured by US firm Raytheon, arrived in Poland accompanied by 100 US soldiers and about 30 vehicles.
The ground-to-air missile defense system was deployed at a military base in Sochaczew, a city about 50km from Warsaw.
Siemoniak said it was natural for Poland to train with allies on defending the city.
"We are here to show our Polish allies that US security guarantees for Poland as part of NATO mean something more than only words on paper," US Ambassador to Poland Stephen Mull said.
The deployment follows unofficial Russian news reports that Russia deployed its Iskander ballistic missiles in its Kaliningrad exclave neighboring Poland as part of exercises earlier this week.
Poland plans to choose the supplier for its medium-range missile defense system within the next few weeks. Warsaw short-listed Raytheon and a consortium of France's Thales and European group MBDA in the tender last year.
Comments will be moderated. Keep comments relevant to the article. Remarks containing abusive and obscene language, personal attacks of any kind or promotion will be removed and the user banned. Final decision will be at the discretion of the Taipei Times.