Indian killed in Australia while on phone to husband
An Indian woman was fatally stabbed in a Sydney park during a brutal attack as she was on the telephone with her distraught husband back home, police officers said yesterday.
Prabha Arun Kumar, a 41-year-old IT professional, was taking a shortcut through Parramatta Park in the city's west at about 9:30pm on Saturday when she was killed.
Police officers refused to reveal details of the telephone call, but reports said that she told her husband: "He stabbed me, darling," before the conversation abruptly ended.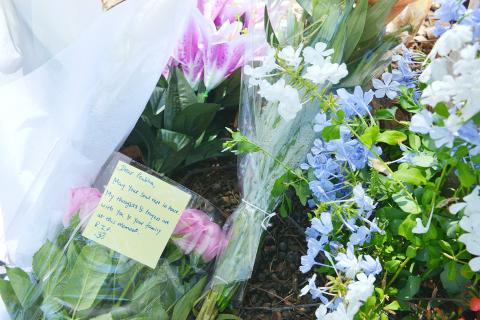 Flowers are laid in a Sydney park yesterday on the spot where Prabha Arun Kumar was stabbed to death while speaking by phone to her distraught husband in India.
Photo: AFP
"He is understandably extremely distressed," New South Wales Police Force Homicide Squad Commander Detective Superintendent Michael Willing said of Kumar's husband, who flew into Australia yesterday and was helping officers with their investigation.
"Here we have an Indian national who has been in the country for some time, going about her business and ends up being killed in a very vicious way," he added.
Police officers appealed for help from the public, releasing footage of Kumar walking from Parramatta Railway Station.
"It is a horrific crime. It is a very, very disturbing crime," Willing added. "We think that she sustained a number of injuries to the neck area with what we believe is a sharp-edged weapon."
Officers said there was nothing to suggest that the murder of Kumar, who reportedly planned to move back to India to be with her husband and nine-year-old daughter, was racially motivated.
"Could this be a random attack? Well, yes it could. It could be a whole range of scenarios... and we are considering all of them," Willing said.
The dead woman's roommate said that Kumar had probably not wanted to bother anyone to ask for a ride home after finishing work late and arriving at Parramatta train station at 9pm.
Instead she decided to walk,. The attack happened near a quiet, tree-lined path where bouquets of flowers were yesterday left in her memory.
"Dear Prabha, may your soul rest in peace. My thoughts and prayers are with you and your family at this moment," a note on one bunch read.
Kumar was found by a passer-by shortly afterward the assault and rushed to a hospital, but had lost too much blood, officials said, adding that doctors were unable to save her.
She was just 300m from home.
No arrests have been made.
A spate of violent crimes against Indian students in Australia in 2010, including the fatal stabbing of 21-year-old Nitin Garg as he walked to work at a fast-food restaurant in Melbourne, heightened tensions between the two nations.
Comments will be moderated. Keep comments relevant to the article. Remarks containing abusive and obscene language, personal attacks of any kind or promotion will be removed and the user banned. Final decision will be at the discretion of the Taipei Times.