China named Japan's top security concern in survey
'LACK OF TRANSPARENCY': Japan's defense minister said that Chinese military and security policies were too secretive, as China overtook N Korea as the No. 1 threat
Japanese are more concerned about China's military strength and assertiveness in Asia than any other security issue, according to a public opinion poll released by the government at the weekend.
More than 60 percent of respondents to the survey conducted in January said China concerned them, compared with 46 percent in a similar poll in 2012. The number worried about North Korea fell to about 53 percent from about 65 percent.
Asia's two largest economies are at loggerheads over uninhabited islands in the East China Sea, with ships and planes from both nations frequently criss-crossing near the disputed area. North Korea is developing atomic and ballistic missile technology, though it has not held a nuclear test since 2013.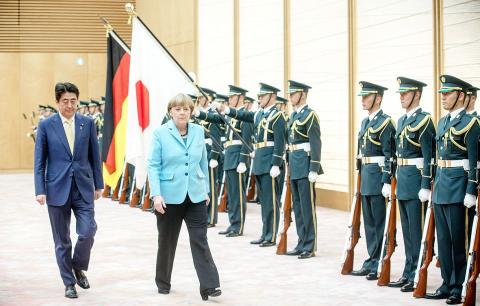 German Chancellor Angela Merkel, right, and Japanese Prime Minister Shinzo Abe review an honor guard before their talks at Abe's official residence in Tokyo yesterday.
Photo: EPA
"There is a lack of transparency in China's military and security policy, including about the budget," Japanese Minister of Defense Gen Nakatani told reporters on Friday last week. "We want to continue to seek disclosure from China."
The two nations are set to hold security talks on March 19 in Tokyo, the first of their kind in four years. The discussions come after Japanese Prime Minister Shinzo Abe met Chinese President Xi Jinping (習近平) in Beijing in November last year, in the first bilateral summit between the nations since May 2012.
When asked in the survey about defense ties with nations other than the US, the proportion seeing benefits from military exchanges with China and South Korea fell by about one-third. Southeast Asia was the partner most commonly cited as useful to Japan.
Abe is seeking to strengthen Japanese Self-Defense Forces (SDF), partly in response to China's modernization of its military.
While 59 percent said the current size of Japan's armed forces was appropriate, a growing minority favor a military build-up. Almost 30 percent said they wanted an expansion, up from 25 percent in the previous poll and 14 percent six years ago.
A record 71.5 percent said they were interested in the SDF, and more than 92 percent had a good impression of the armed forces.
Japan's Cabinet Office interviewed 1,680 people between Jan. 8 and Jan. 18. The survey was first conducted in 1969.
Comments will be moderated. Keep comments relevant to the article. Remarks containing abusive and obscene language, personal attacks of any kind or promotion will be removed and the user banned. Final decision will be at the discretion of the Taipei Times.