Obama appeals for unity in fight against extremism
COOPERATION: The US president told a Washington conference that better ways must be found to counter extremism, and combat those 'who have perverted Islam'
US President Barack Obama called on Americans and more than 60 nations on Wednesday to join the fight against violent extremism, saying they had to counter the ideology of the Islamic State and other groups making increasingly sophisticated appeals to young people around the world.
On the second day of a three-day meeting that comes after a wave of terrorist attacks in Paris, Sydney, Copenhagen and Ottawa, Obama said undercutting the Sunni militant group's message and blunting its dark appeal was a "generational challenge" that would require cooperation from mainstream Muslims as well as governments, communities, religious leaders and educators.
"We have to confront squarely and honestly the twisted ideologies that these terrorist groups use to incite people to violence," Obama told an auditorium full of community activists, religious leaders and law enforcement officials — some of them skeptical about his message — gathered at the Eisenhower Executive Office Building next door to the White House. "We need to find new ways to amplify the voices of peace and tolerance and inclusion, and we especially need to do it online."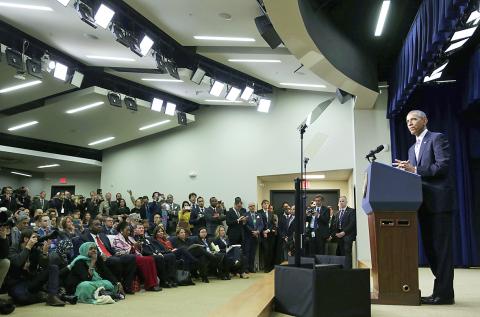 US President Barack Obama speaks at the White House Summit on Countering Violent Extremism on Wednesday in Washington.
Photo: Reuters
However, "we are not at war with Islam. We are at war with people who have perverted Islam," he said.
White House officials cast the conference as a rallying cry and progress report following Obama's speech on terrorism to the UN General Assembly in September last year and said it signaled Obama's desire to play the leading role in assembling an international coalition to fight an ideological war against the Islamic State, formerly known as the Islamic State of Iraq and the Levant. They said the battle was just as important as the military campaign Obama launched against the Islamic State in Iraq and Syria last summer, which has shown mixed results.
Despite Obama's call to arms, many of the leaders and officials attending the conference expressed doubt about the ability of his administration to counter extremist messages, particularly from the Islamic State, which has a reach and agility in social media that far outstrips that of the US government.
"We're being outdone both in terms of content, quality and quantity, and in terms of amplification strategies," said Sasha Havlicek of the Institute for Strategic Dialogue, a London-based research organization, in a presentation at the meeting.
She used a diagram of a small and large megaphone to illustrate the "monumental gap" between the Islamic State, which uses social media services like YouTube, Facebook and Twitter, and other groups and governments, including the Obama administration.
"The problem is that governments are ill-placed to lead in the battle of ideas," Havlicek said as she called for private companies to become involved in what she called "the communications problem of our time."
US officials acknowledged the problems they face.
"You could hypothetically eliminate the entire ISIL safe haven, but still face a threat from the kind of propaganda they disseminate over social media," US Deputy National Security Adviser Benjamin Rhodes said, using another acronym for the Islamic State group. "It's an undervalued part of how you prevent terror attacks in the United States."
Human rights activists at the conference said they had grave concerns about domestic efforts to counter violent extremism, known inside the government by the acronym CVE. They said that programs to spot potential homegrown terrorists could morph into fearmongering closet surveillance efforts that trample on civil rights and privacy, and that the administration could also be giving tacit approval to foreign governments that abuse human rights in the name of countering terrorism.
A coalition of advocacy groups on Tuesday wrote to the White House raising their concerns, and some Muslim-American community groups boycotted the meeting.
"The government must behave in a way so that victims of hate crimes and violent extremism know that government agencies are there to protect their rights and safety, not just monitor their religious and political expression," American-Arab Anti-Discrimination Committee president Samer Khalaf said. "This focus solely on attacks committed by Arabs or Muslims reinforces the stereotype of Arab and Muslim-Americans as security threats, and thus perpetuates hate of the respected communities."
US intelligence officials have long believed that the greatest terror threat in the US is no longer from meticulously plotted events like the Sept. 11, 2001, attacks that originate overseas, but from US citizens who become radicalized on their own or by a foreign terrorist organization.
In his remarks, Obama said that other countries had a responsibility to help.
"If we're going to prevent people from being susceptible to the false promises of extremism, then the international community has to offer something better," he said, adding that the United States would "do its part" by promoting economic growth and development, fighting corruption and encouraging other countries to devote more resources to education, including for girls and women.
"When governments oppress their people, deny human rights, stifle dissent, or marginalize ethnic and religious groups, or favor certain religious groups over others, it sows the seeds of extremism and violence," Obama said. "It makes those communities more vulnerable to recruitment."
Part of the business of the conference on Wednesday was to bring together leaders from Minneapolis, Los Angeles and Boston, where federal pilot programs are aimed at helping target disaffected young people who might be susceptible to extremist messages.
Obama said it was crucial that such efforts include input from Muslim-Americans, who he said have sometimes felt "unfairly targeted" by government anti-terrorism efforts.
"We have to make sure that abuses stop, are not repeated, that we do not stigmatize entire communities," Obama said. "Engagement with communities can't be a cover for surveillance.''
Comments will be moderated. Keep comments relevant to the article. Remarks containing abusive and obscene language, personal attacks of any kind or promotion will be removed and the user banned. Final decision will be at the discretion of the Taipei Times.