Ex-Guantanamo inmate Hicks relieved after US court overturns his conviction
DURESS: Hicks said he would not seek compensation, but called on Canberra to pay his medical bills given ongoing medical issues stemming from his time in jail
Former Australian Guantanamo Bay inmate David Hicks yesterday expressed relief after a US court quashed his terrorism conviction and demanded Canberra pay his medical bills as he struggles to overcome the effects of alleged torture.
Hicks was held in the notorious US-run prison from January 2002 until May 2007, when he pleaded guilty to providing material support to al-Qaeda.
The plea bargain suspended all but nine months of his seven-year sentence and allowed him to return home. He has since recanted his confession, claiming he only admitted guilt under duress. Hicks claims he was beaten, sexually abused and drugged while in jail.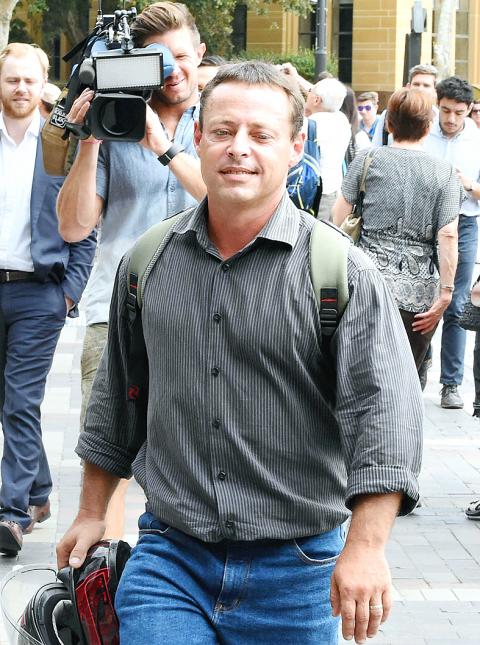 Former Australian Guantanamo Bay inmate David Hicks leaves following his talks with the media at Circular Quay in Sydney yesterday.
Photo: AFP
Three appeals court judges unanimously overturned his conviction, ruling that material support for terrorism was not a war crime and could not be tried by a military court.
"We had been waiting for this decision for years. It is a relief because it is over," Hicks said in Sydney.
"I am sure no one is surprised by today's long-awaited acknowledgement by the government of the United States of America of my innocence. Even the Australian government has admitted that I committed no crime. It is just unfortunate that because of politics, I was subjected to five-and-a-half years of physical and psychological torture that I will now live with always," he said.
Hicks was arrested in 2001 in Afghanistan and accused of fighting alongside the Taliban against US-led forces which had invaded the country following the Sept. 11, 2001, attacks in the US.
He has admitted to taking part in paramilitary training in Afghanistan and Pakistan, as well as conflicts in Kosovo and Kashmir, but maintains he never had extremist intentions.
The Australian government was accused of not doing enough to help him while in Guantanamo, but Hicks said he was "too defeated" to pursue an official apology.
Australian Prime Minister Tony Abbott said the government "did what was needed" and ruled out any apology.
"Look, I'm not in the business of apologizing for the actions that Australian governments take to protect our country. Not now, not ever," he said.
His stance was echoed by John Howard, the prime minister while Hicks was in jail.
"Nothing alters the fact that by his own admission, Hicks trained with al-Qaeda, met Osama bin Laden on several occasions — describing him as a brother. He reveled in jihad," Howard said. "He is not owed an apology by any Australian government."
Hicks said he would not be chasing compensation, but called on Canberra to pay his medical bills with ongoing dental, back, knee and elbow issues stemming from his time in jail.
"I am in a lot of trouble physically at the moment. It is affecting my ability to do any day job which is my only income," he said. "I do think that someone should be responsible for my medical expenses.
"The Australian government were aware of the conditions I was being held in at the time. They should at least pay my medical expenses. That is not much to ask for, I don't think," he said.
Hicks directly blamed his medical problems on his treatment in Guantanamo Bay.
"It is due to the torture. Being kept in freezing conditions, small rooms for years. Not being able to move or exercise," he said. "The body deteriorates over five-and-a-half years, even without the added torture, such as stress positions, being beaten."
Lawyer Wells Dixon, who argued the appeal in the US, said the decision showed the failure of the military commissions used at Guantanamo to try terror suspects outside the normal US court system.
Comments will be moderated. Keep comments relevant to the article. Remarks containing abusive and obscene language, personal attacks of any kind or promotion will be removed and the user banned. Final decision will be at the discretion of the Taipei Times.