Abbott vows not to resign
'KNIGHTMARE': The Australian prime minister said he probably 'overdid it' amid public bemusement over his decision to make Britain's Prince Philip a knight
Australian Prime Minister Tony Abbott yesterday said he had not contemplated stepping down, as pressure mounted on his leadership following a controversial decision to make Britain's Prince Philip a knight.
Abbott faced ridicule after naming the nonagenarian consort of Queen Elizabeth II a knight of the Order of Australia last month, incensing members of his ruling coalition who were already dealing with falling poll numbers, policy backflips and an unpopular budget.
When asked by reporters if he had considered resigning, Abbott said: "No," but added: "I accept that I probably overdid it on awards."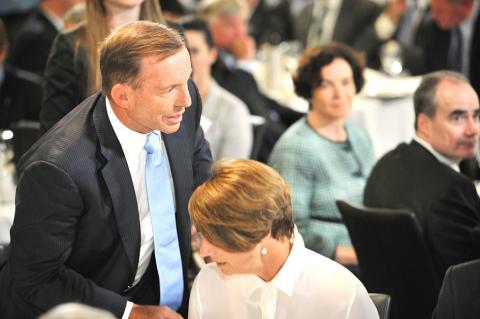 Australian Prime Minister Tony Abbott, left, rises from his seat before speaking at the National Press Club in Canberra, Australia, yesterday.
Photo: Bloomberg
"I have listened, I have learned, I have acted..." he said, in reference to the adverse public reaction.
The honor for Prince Philip bemused Australians, many of whom want to cut ties with the British monarchy and become a republic. The media dubbed the award for the non-resident a "knightmare" for Abbott.
SLIPPING POPULARITY
Abbott insisted he was the right person to lead the government, after reports that some colleagues were under pressure to challenge him.
"Let me make it absolutely crystal clear, we were elected in 2013 because the Australian people rejected chaos. And we are not going to take them back to that chaos," he told the National Press Club in Canberra.
"It's the people that hire and frankly it's the people that should fire," the prime minister said.
Abbott's Liberal National Party coalition romped to power in a September 2013 election, but is now trailing the opposition Labor Party 46 to 54 percent, a Fairfax-Ipsos poll in the Sydney Morning Herald showed yesterday.
The poll of 1,400 people questioned at the end of last week also found that Abbott's rating as preferred prime minister had slipped from 39 to 34 percent, while Labor leader Bill Shorten had climbed to 50 percent.
"I never came into politics to be popular," Abbott said, after being asked why people did not seem to like him.
The dire polling follows a dismal result in a Queensland state election, which still hangs in the balance, but which delivered a huge swing against the ruling conservative administration.
Abbott conceded the government had struggled to get its message across. He promised a more consultative style of leadership and confirmed he would not be making decisions on knighthoods in the future — leaving it entirely to the Order of Australia Council.
Outlining his government's agenda for this year, Abbott said the focus would be jobs, families, roads, national security and small business as he flagged a new crackdown on extremist groups.
'SIGNATURE' POLICY
He said his "signature" policy for a paid parental leave scheme, which would have paid new mothers 26 weeks of their actual wage capped at A$100,000 (US$77,850) and which has long been criticized as too expensive, was "off the table."
Abbott's troubles have raised the prospect of a mid-term leadership challenge. Reports have suggested Australian Minister for Communications Malcolm Turnbull, Australian Minister for Foreign Affairs Julie Bishop or Australian Minister for Social Services Scott Morrison could be contenders.
"Look, we've had a rough couple of months, I accept that," the prime minister said.
A leadership challenge would revive memories of the sudden removal of former Australian prime minister Kevin Rudd in 2010 in a party room coup by his deputy, Julia Gillard.
Gillard was herself ousted by Rudd in 2013.
Comments will be moderated. Keep comments relevant to the article. Remarks containing abusive and obscene language, personal attacks of any kind or promotion will be removed and the user banned. Final decision will be at the discretion of the Taipei Times.