Kerry heads to Nigeria amid tensions
US Secretary of State John Kerry was due in Nigeria yesterday, just weeks away from closely fought elections overshadowed by fears about mounting Boko Haram violence and poll-related unrest.
Kerry announced the trip on Friday at the World Economic Forum in Davos, Switzerland, where he spoke at length on the threat to the world from Muslim extremist groups, including Boko Haram.
However, his visit was not expected to focus solely on the insurgency, Nigeria's handling of which has led to tensions between Abuja and Washington.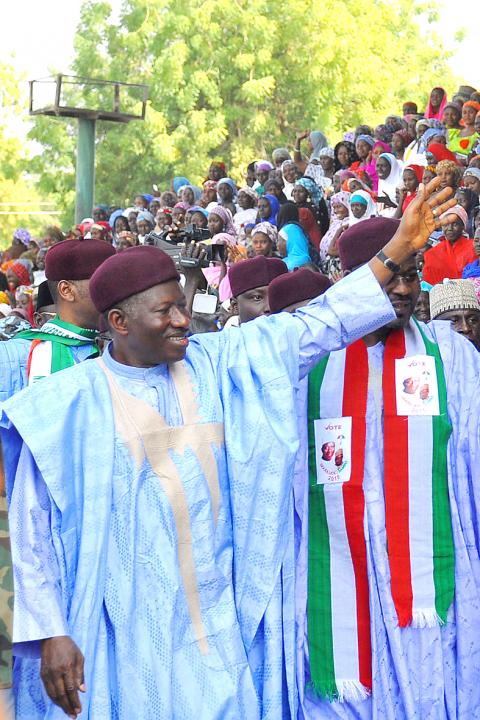 Nigerian President and presidential candidate Goodluck Jonathan waves to supporters during a rally in Maiduguri, Nigeria, on Saturday.
Photo: AFP
Instead, Kerry was understood to want to focus on the Feb. 14 presidential and parliamentary elections, which are tipped to be the closest since Nigeria returned to civilian rule in 1999.
The US has pressed for the elections to go ahead, despite the raging violence in Nigeria's far northeast that risks leaving hundreds of thousands of displaced people unable to vote.
Last week, Nigerian national security adviser Sambo Dasuki called for polling to be delayed, as 30 million voter cards had yet to be distributed.
However, the electoral body maintained that preparations were on track.
Kerry was due to meet Nigerian President Goodluck Jonathan, who is seeking a second four-year term, and his main rival, former Nigerian military ruler Muhammadu Buhari, in the financial capital, Lagos.
Buhari and his All Progressives Congress (APC) party are seen as having their best chance of winning and dumping Jonathan's Peoples Democratic Party (PDP) out of power for the first time in 16 years.
Some analysts believe the real prospect of defeat is behind the PDP's highly personal campaign against Buhari, who has had to fend off questions about his eligibility to stand, his health and religious views.
That comes despite calls from former UN secretary-general Kofi Annan, among others, for an issues-based election.
The International Crisis Group warned in November last year that an "increasingly violent" political climate in Nigeria and rhetoric from parties must be checked to avoid widespread unrest.
The 2011 election left about 1,000 people dead in post-poll protests in central Nigeria, where the mainly Christian south meets the predominantly Muslim north.
Jonathan, Buhari and the 12 other presidential candidates have signed a pledge of nonviolence, but there have still been sporadic outbreaks and clashes.
On Saturday, unknown gunmen stormed and bombed the site of a planned APC rally outside the southern oil city of Port Harcourt, in a sign of rising tensions.
The APC has previously blamed the PDP for a string of violent attacks on its supporters, facilities and offices since the start of campaigning last month.
Nigerian national police chief Suleiman Abba on Saturday warned politicians against using "thugs and miscreants ... to disrupt and truncate the political campaigns of their opponents."
Kerry's visit comes after a high-profile spat in November when Nigeria's ambassador to Washington accused the US of failing to provide the weapons required to deliver a "killer punch" to Boko Haram.
The US said it was constrained by domestic laws that prevented it from providing arms to militaries with dubious human rights records.
Nigeria then pulled a US program to train soldiers to fight Boko Haram.
Washington, which sees the west African giant as a strategic partner and is alarmed by the regional threat posed by Boko Haram, has been repeatedly outspoken on Nigeria's response to the insurgency.
Comments will be moderated. Keep comments relevant to the article. Remarks containing abusive and obscene language, personal attacks of any kind or promotion will be removed and the user banned. Final decision will be at the discretion of the Taipei Times.