Philippine president visits survivors in blast-hit port city
Philippine President Benigno Aquino III yesterday flew to a southern city hit by a deadly bombing to comfort dozens of injured residents, while vowing to bring those responsible for the blast to justice, a spokesman said.
An explosion near a bus terminal in the port city of Zamboanga killed two people and wounded 50 on Friday, Philippine Presidential Communications Office Secretary Herminio Coloma said over government radio.
Zamboanga Mayor Maria Isabelle Climaco has blamed Abu Sayyaf, saying the blast was part of a plot to spring 57 detained militants from a local jail.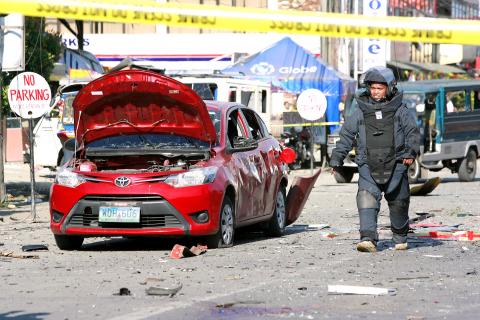 A police technician in a bomb suit walks past a damaged car at the site of a suspected car bombing that killed two people along a highway in Zamboanga, a port in the southern Philippines, on Friday.
Photo: EPA
"The government will be unstinting in pursuing those responsible," Coloma said.
He added, without giving details, that police were "following a number of possible leads that could help them obtain the identity and whereabouts of the suspects."
He said Aquino flew to Zamboanga to be briefed on the probe into the blast, which police described as a possible car bomb.
"He will personally visit the families of the two fatalities, as well as those who were hurt and are being treated at local hospitals," Coloma added.
Sandy Balagamo, owner of a small hotel and bakery that was heavily damaged by the explosion, told reporters that she wanted a greater police presence in the area.
"We are apprehensive about our investment... Our business is dying," she said. "We know it is not the government's fault, but I hope they could help us rebuild."
Insurers have refused to pay out on policies related to the blast because they consider the destruction a terrorist attack, which is explicitly excluded by her policy, Balagamo said.
Though Abu Sayyaf has been blamed for the attack, no group has claimed responsibility for it.
Abu Sayyaf, a loose band of a few hundred militants founded with seed money from al-Qaeda, has been blamed for the worst terror attacks in Philippine history.
These have included the bombing of a ferry in Manila in 2004, in which more than 100 people died, and repeated kidnappings of foreigners in the southern Philippines, who are usually ransomed off for huge sums of money.
Comments will be moderated. Keep comments relevant to the article. Remarks containing abusive and obscene language, personal attacks of any kind or promotion will be removed and the user banned. Final decision will be at the discretion of the Taipei Times.