Guantanamo Bay commander sacked amid adultery probe
The commander of the US Navy base at Guantanamo Bay has been relieved of his duties after an investigation uncovered evidence of an inappropriate relationship between him and a civilian woman whose husband was found dead earlier this month, a US official said on Thursday.
The US Navy said Captain John Nettleton, Guantanamo Bay base commander since June 29, 2012, was relieved on Wednesday because of a loss of confidence in his ability to command. The navy declined to provide further details, citing the ongoing investigation.
US Defense Secretary Chuck Hagel, at a news conference on Thursday, confirmed the commander had been relieved of his duties, but declined to elaborate, saying it would be inappropriate for him to comment because of the investigation.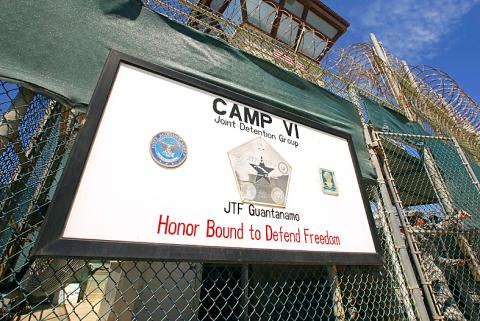 A guard opens the gate at the entrance to Camp VI at the US Navy base at Guantanamo Bay, on March 5, 2013.
Photo: Reuters
"The base commander has been relieved. It is now in the purview of appropriate authorities, so I won't have anything to say specifically about that," Hagel told reporters. "But the commander has been relieved."
The US official, who spoke on condition of anonymity, said investigators looking into the death of Christopher Tur, a civilian worker at the Navy Exchange on the base, found evidence of an inappropriate relationship between Nettleton and Tur's wife.
The US Coast Guard found Tur's body in the waters at the western side of the base on Jan. 11, a day after his wife reported him missing, the official said. The investigators were looking into the cause of Tur's death, which was not immediately clear, the official said.
Nettleton has been temporarily assigned to a staff job at Navy Region Southeast in Jacksonville, Florida, the navy said.
He was not directly involved in detainee operations at Guantanamo military prison, which houses fighters captured in the US war against al-Qaeda and its affiliates, defense officials said.
Nettleton was in command of the Navy installation and was responsible for base logistics, but the prison is run by a joint task force.
US Navy Captain Scott Gray, the chief of staff to the commander of Navy Region Southeast, has been assigned acting commander at Guantanamo, the navy said.
Comments will be moderated. Keep comments relevant to the article. Remarks containing abusive and obscene language, personal attacks of any kind or promotion will be removed and the user banned. Final decision will be at the discretion of the Taipei Times.