Germany's PEGIDA boss resigns over 'Hitler selfie'
The leader of Germany's "anti-Islamization" movement PEGIDA stepped down on Wednesday after a picture emerged of him sporting a Hitler-style haircut and mustache, along with racist slurs he posted on Facebook.
Addressing his followers on the social media site, Lutz Bachmann apologized for the "thoughtless statements that I would not make today."
"I am sorry that I have damaged the interests of our movement with them and I am acting accordingly," he wrote.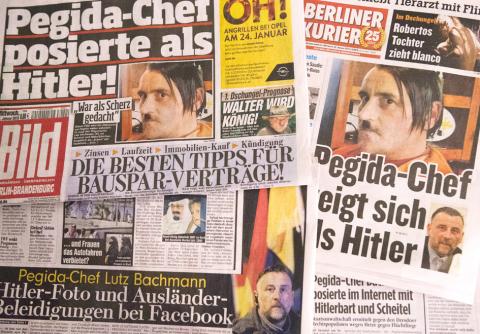 German newspapers carrying pictures of PEGIDA leader Lutz Bachmann allegedly posing as Adolf Hitler are seen in Berlin on Wednesday.
Photo: AFP / Odd Andersen
A photograph of Bachmann, 41, looking like Nazi leader Adolf Hitler had surfaced on Wednesday, going viral on social media and sparking a storm of protest.
Media reports said Bachmann had posted comments on Facebook in the past referring to refugees as "beasts" and "filth."
Dresden's public prosecutor was investigating whether to open a case against him on charges of incitement to hatred.
PEGIDA spokeswoman Kathrin Oertel welcomed Bachmann's resignation, saying that his "Hitler selfie" had been "satire, which is every citizen's right," but that his "sweeping insults against strangers" went too far.
She said Bachmann had posted the picture in September last year, only weeks before he founded PEGIDA — Patriotic Europeans Against the Islamization of the Occident — in the eastern city of Dresden.
Bachmann took the photograph, which shows him with a small black mustache and hair parted to the side, at about the time of the publication of a bestselling satirical audiobook about Hitler entitled Look Who's Back.
The furore it caused has torpedoed PEGIDA's recent efforts at a charm offensive with the media to present a more moderate image.
At their first-ever press conference this week, Bachmann and Oertel had distanced themselves from the neo-Nazis who had joined their rallies and said that most of their supporters were citizens fed up with contemporary politics.
Meanwhile, about 15,000 right-wing protesters rallied in another eastern city, Leipzig, separated by riot police from more than 20,000 anti-racist counterdemonstrators.
The showing of PEGIDA's Leipzig spin-off LEGIDA was far below the 40,000 its organizers had expected, in part because many access roads were blocked by almost 20 counterdemonstrations and vigils.
Amid the heightened tensions, German President Joachim Gauck warned against a "polarization" that could weaken trust between citizens and harm social cohesion in the country.
German Chancellor Angela Merkel has condemned PEGIDA and German Vice Chancellor Sigmar Gabriel spoke out strongly against Bachmann, saying: "Anyone who in politics disguises themself as Hitler is either a bit of an idiot or a Nazi."
Comments will be moderated. Keep comments relevant to the article. Remarks containing abusive and obscene language, personal attacks of any kind or promotion will be removed and the user banned. Final decision will be at the discretion of the Taipei Times.