Australians swim, surf despite warnings about sharks
Australian surfers and swimmers yesterday defied beach closures on the nation's east coast, taking to the water despite repeated shark sightings over the past week and an attack on a teenage spearfisher.
Beaches in the eastern city of Newcastle, about 160km north of Sydney, closed for a record eighth straight day yesterday after two sharks were spotted off the coast.
One shark, believed to be a great white, was estimated to be 5m long and weigh about 1,700kg. Officials said the other shark, whose species was not reported, was about 3m.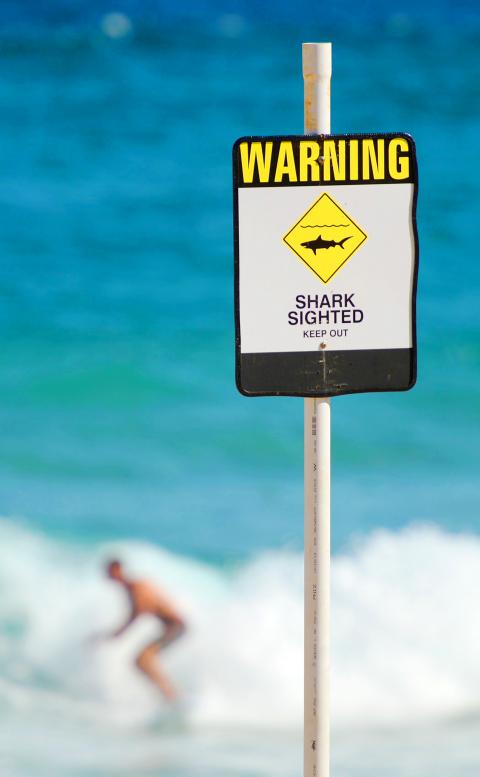 Someone surfs despite a shark warning sign posted on the beach in Newcastle, Australia, yesterday.
Photo: AFP
The sharks were seen to be feeding on dolphins.
In southern Sydney, a surf carnival at Wanda Beach was canceled yesterday after two sightings of a shark, Surf Life Saving New South Wales spokeswoman Donna Wishart said.
The beach was temporarily closed by lifeguards before being reopened when there was no further sign of the animal during an aerial search, Wishart added.
Despite the closures and "Shark sighted: Keep out" signs, and as lifeguards patrolled the waters on jet skis, some swimmers and surfers continued to enter the water as the sunny summer weather drew residents to the beaches.
"Surfing is pretty dangerous at the best of times, and I just look at it like I've been swimming with sharks all my life," surfer Shawn Ofriel told the Newcastle Herald. "You're always surfing with them because they are always around, but [getting attacked] is pretty rare."
Wishart said it was up to the surfers to decide if they wanted to risk an encounter with a shark.
"When we say we close the beach, we can't prevent people from going into the water, and lots of surfers are ignoring our closures," she said. "Even if we close the beach, the lifesavers and the lifeguards will remain there and they will actively discourage people from going into the water. You take a risk going out there and there's not much we can do about that."
A 17-year-old boy was bitten on his hand after he tried to film a shark while spearfishing off Mollymook about 230km south of Sydney on Friday.
Comments will be moderated. Keep comments relevant to the article. Remarks containing abusive and obscene language, personal attacks of any kind or promotion will be removed and the user banned. Final decision will be at the discretion of the Taipei Times.