Newspapers welcome Sirisena, eschew predecessor
Sri Lankan media outlets showed rare unity yesterday in giving the "thumbs-up" to newly elected President Maithripala Sirisena, who had promised to restore media freedom and lift censorship on Web sites.
"MS in stunning win over MR," the Island newspaper said in a headline referring to Sirisena's victory over former Sri Lankan president Mahinda Rajapakse, who conceded defeated even before the final results were released on Friday last week.
The paper reported that the transfer of power was smooth and the post-election period was unusually peaceful in a nation known for violence before, during and after national elections in the past.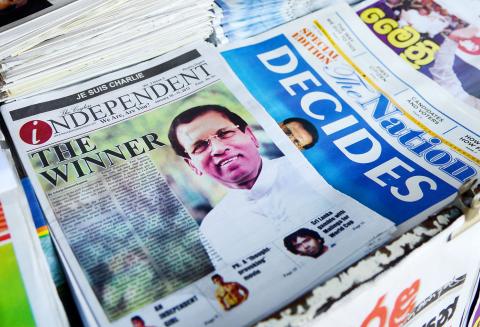 Newspapers for sale are pictured at a stall in Colombo, Sri Lanka, yesterday, leading with stories about Sri Lankan President Maithripala Sirisena, who was sworn in on Friday last week.
PHOTO: AFP
The state-run Daily News, which had led a vituperative campaign against Sirisena, made an about-face on Saturday to praise the new president and relegated Rajapakse to a stamp-sized photograph at the bottom of the front page. Just a day earlier, the Daily News had said that a Sirisena victory "seems to be a figment of the imaginations of various interested parties."
The Sinhalese-language Dinamina, which is also run by the central government, carried a banner headline labeling Sirisena's win as: "[A] Stunning Victory."
The new administration has yet to take control of its media outlets.
New Prime Minister Ranil Wickremesinghe told reporters on Friday that they are "free to report whatever you want without the fear of being abducted."
He said that a program of Internet censorship enforced by the former government was also being lifted.
The Sinhalese-language Lakbima paper hailed Rajapakse's swift departure from his official residence early on Friday, a move that cleared the way for a peaceful transition.
"His stepping down is a good start for a new political culture," the paper said, splashing photographs of Sirisena and his family on the front page.
The private Daily Mirror, which had supported Sirisena during the campaign, said it expected him to be a "promise-keeper."
"President Sirisena, you rise to great heights if you are a promise-keeper and not just a promise-maker," it said.
The English-language Island reported that Sirisena had urged his supporters to refrain from harming the vanquished and said the call was magnanimous.
Sirisena's election was marred by firebomb and shooting attacks that left at least one dead and scores injured. Sirisena referred to the violence in his address to the nation shortly after being sworn in, but urged restraint.
Comments will be moderated. Keep comments relevant to the article. Remarks containing abusive and obscene language, personal attacks of any kind or promotion will be removed and the user banned. Final decision will be at the discretion of the Taipei Times.