Afghan soldiers vow to hold the fort as US exits
An ergonomic office chair, broken heaters and some maps are the only signs that US troops once battled daily with the Taliban at Siah Choy, a small combat outpost in southern Afghanistan.
Now manned by just 30 Afghan soldiers, the base is in Kandahar Province's Zhari District, the birthplace of the Taliban movement and scene of years of heavy fighting as NATO forces struggled to gain a foothold in the area.
However, the days of US troops leading Afghan recruits through poppy and hashish fields are over: The Afghan National Army now undertakes operations without outside assistance or the comfort of air support.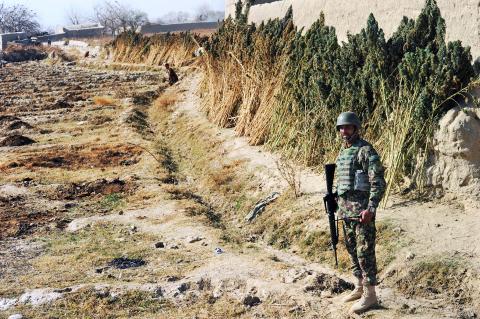 An Afghan National Army soldier stands next to freshly cut cannabis plants as his unit patrols fields near their combat outpost in Zhari, Afghanistan, on Dec. 10.
Photo: AFP
"I saw many Americans come and go, some units only stayed six months," said Lieutenant Saeed Nazir, 40, a senior officer at Siah Choy, where he has served since 2009.
"Often the fighting was very intense, with mortars coming into the base, big gunfights and airstrikes. We had good relations with some US soldiers and bad relations with others," Nazir said. "They taught us to patrol and gave us weapons. What we don't have any more is an air force, helicopters to take injured soldiers to hospital, or any night vision equipment."
"We're doing well, with no casualties since the Americans left [in August]. We hope it continues — I have lost 12 close colleagues fighting here over the last five years," he added.
Two weeks before the end of NATO's combat mission on Thursday, Nazir led a foot patrol through nearby villages, marking the final day of a 10-day operation involving 1,200 troops and 300 police officers across four districts.
The soldiers were professional, alert and well-equipped as they spread out through head-high cannabis plants and discarded husks from the poppy harvest that puts Kandahar at the center of the global opium trade.
"Unlike the police, we don't bother villagers about what they grow," Nazir said. "We want the local people to work with us."
Taliban and NATO forces swapped control over Zhari several times in the 13-year war. Canadian-led soldiers first won the area in 2006, lost it almost immediately and then fought for it again in Operation Medusa — the largest set-piece battle of the whole NATO mission. More than 1,000 Taliban fighters were killed.
In 2010 and 2011, Zhari was also a main focus of US President Barack Obama's surge of 30,000 extra US troops at a time when the insurgents held sway.
Many civilians fled the fighting, but some have since returned to their homes to tend their fields, despite the risk of improvised explosive devices, which are often triggered by sensitive pressure pads.
"The insurgents have been pushed back, but there is still activity today," said Colonel Ghulam Hazrat, the officer in charge of the latest operation, codenamed "Bawar 24."
"One problem is that the army takes ground and then the Taliban retake it. Often the police suffer a lot of the worst casualties and they are weak due to lack of equipment," Hazrat said.
Zhari also straddles the nationwide ring road Highway One and is a key route into Kandahar city, the former capital of the Taliban regime.
For troops at Siah Choy, life is an austere regime of dawn patrols, drills and guard duty, fueled by a diet of rice, beans and bread, with some meat for dinner.
Temperatures fall well below freezing at night and soldiers sleep in unheated tents as the generator is not strong enough to power the US air-conditioning units.
The camp has electricity for just five hours each evening, when a few favored officers huddle in Nazir's room to watch Indian satellite TV channels tapped from a local cable connection.
"It is OK. I like being a soldier, but my bed at home is more comfortable," said Mohammed, who at 18 is the youngest soldier on the base and had just returned from leave with his family in Kunar Province. "It took 24 hours on the road to get home, I wish the army would help more."
Despite the end of the US-led mission, Nazir said he feels confident about the future.
"I think we can do it. We are stronger than before," he said.
Comments will be moderated. Keep comments relevant to the article. Remarks containing abusive and obscene language, personal attacks of any kind or promotion will be removed and the user banned. Final decision will be at the discretion of the Taipei Times.