Hong Kong raises avian flu alert level
CRITICAL CASE: Health officials were not sure how a woman, hospitalized in critical condition, who recently visited Shenzhen caught the virus carried by poultry
Hong Kong hospitals yesterday raised health alert levels as a woman diagnosed with the H7N9 avian influenza virus entered critical condition.
The 68-year-old woman was hospitalized on Thursday last week after returning from the southern Chinese city of Shenzhen almost two weeks earlier, although it has not been confirmed where or how she contracted the virus.
Previously, 10 people had been diagnosed with H7N9 in Hong Kong, including three who died. All had contracted the virus in mainland China, Hong Kong's Centre for Health Protection said.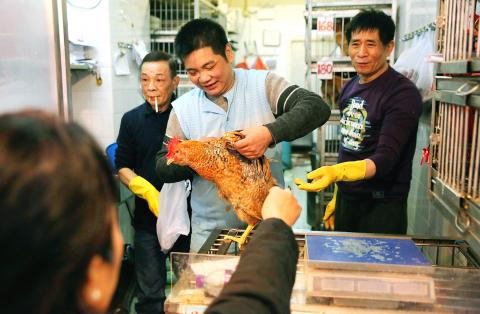 A customer, left, buys a live chicken from a shop in the Wan Chai district of Hong Kong yesterday.
Photo: AFP
The outbreak, which first emerged elsewhere in China in February last year, has reignited fears that a bird flu virus could mutate to become easily transmissible between people, threatening to trigger a pandemic.
In response to the new case — the territory's first since early this year — Hong Kong announced that it was raising its response level in hospitals to "serious" from "alert," with extra precautions implemented in hospitals beginning yesterday.
The rules include limitations on visiting hours and compulsory surgical masks for those visiting patients.
There are three response levels, with "emergency" the most serious.
Hong Kong reduced the level from "serious" to "alert" in June, after a drop in cases.
Hong Kong Secretary for Food and Health Ko Wing-man (高永文) said late on Saturday that the woman had been with two friends in Shenzhen, where she had eaten "home-cooked chicken," although she is not believed to have had contact with live poultry at markets.
She remained in critical condition in intensive care yesterday, hospital authorities said.
Hong Kong slaughtered 20,000 chickens in January after the virus was found in poultry imported from the southern Chinese province of Guangdong.
A four-month ban on live poultry imports from the rest of China was then imposed to guard against the virus.
Ko said the new response level would not affect the import of poultry for the time being, as "rapid testing" had been introduced to check birds for infection.
"We will closely monitor the situation... then decide the appropriate measures," he said.
Hong Kong is particularly alert to the spread of viruses after an outbreak of SARS swept through the territory in 2003, killing 299 people and infecting about 1,800.
There have been 469 cases of H7N9 in mainland China since last year, the health center said.
Comments will be moderated. Keep comments relevant to the article. Remarks containing abusive and obscene language, personal attacks of any kind or promotion will be removed and the user banned. Final decision will be at the discretion of the Taipei Times.