'Occupy hotel' recreates rally camp for guests
Hong Kong's pro-democracy protest camps may have been swept away, but one man has recreated a rally site as an Occupy hotel — where guests now pay to spend the night in a tent.
Set up in a small apartment in the Causeway Bay shopping district, which was previously home to one of three protest camps, visitors pay HK$100 (US$13) to stay in one of two small tents surrounded by protest memorabilia. The walls are draped with pro-democracy banners and a cardboard cutout of Chinese President Xi Jinping (習近平) holding a yellow umbrella — the symbol of the pro-democracy movement — dominates the room.
When nature calls, guests will find the face of the territory's embattled leader, Hong Kong Chief Executive Leung Chun-ying (梁振英), printed on the toilet paper.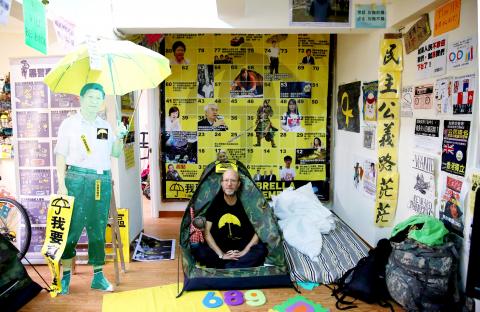 Stephen Thompson on Tuesday sits in a tent in an apartment that he has turned into a recreation of the main pro-democracy protest site in Hong Kong.
Photo: AFP
"I want people who missed out on the chance to 'occupy' because they were too busy or they were in another country to come in and stay in the tents," said Stephen Thompson, 50, a British freelance writer who has lived in Hong Kong for eight years.
"When it finished, I didn't want it to end," said Thompson, who calls his "hotel" the "Umbrella Revolution Occupation Experience."
"It [the umbrella movement] was an achievement in itself, whether or not universal suffrage was achieved," Thompson said.
Protesters occupied stretches of some of Hong Kong's main highways for more than two months from Sept. 28, calling for free leadership elections after China said candidates for chief executive in 2017 would first be vetted by a loyalist committee.
Hundreds of tents sprawled across major roads as the protest sites became entrenched camps complete with supply stalls, study areas and artwork.
Causeway Bay was the last site to be cleared last week.
"People like to be reminded of their dreams and ideals, so I think people are more than happy to spend a little bit of money for that," Thompson said.
The makeshift hotel opened last week and guests are booked in from all over the world, he said, including from mainland China.
One current guest, who identified himself as Allen D from San Francisco, said he was staying there because he supports "revolutionary spirit" and was "in awe" of Hong Kong's protesters.
The 26-year-old, who is traveling the world and camped at the protest sites after arriving in Hong Kong last month, found Thompson's replica through online accommodation site Airbnb.com
Pro-democracy campaigners are still making their voices heard around Hong Kong, with large banners appearing on landmarks, pop-up markets selling movement memorabilia and smaller protest gatherings.
Comments will be moderated. Keep comments relevant to the article. Remarks containing abusive and obscene language, personal attacks of any kind or promotion will be removed and the user banned. Final decision will be at the discretion of the Taipei Times.