African royal's heirs live on in Bolivia
LINEAGE: Julio Pinedo's family tree goes back to Congolese prince Uchicho, who was kidnapped and sold into slavery in the early 1800s and sent to Boliva
He does not have Queen Elizabeth II's throne or Kate and Wills' paparazzi, but Bolivian peasant Julio Pinedo is New World royalty: a king who inherited his title from his African ancestors.
Pinedo's calloused hands, the mark of a lifetime of farming, belie the royal blood passed down to him by the Congolese prince Uchicho, who was taken to the Americas as a slave sometime around 1820.
In the nearly two centuries since then, Afro-Bolivians have lost their languages, religions and much of their history, but Pinedo's family has managed to hold onto its royal heritage.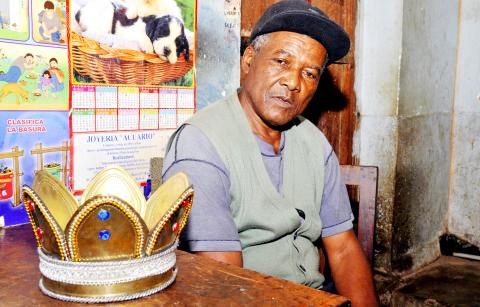 Julio Pinedo sits next to the crown he was given by the Afro-Bolivian community, at his house in the Mururata community in the Bolivian Yungas on Nov. 23.
Photo: AFP
Today he is recognized as a king by Bolivia's black community, about 26,000 people descended from the slaves imported under Spanish colonial rule from the 16th to the 19th centuries.
Pinedo, 73, lives in the small village of Mururata, about a two-hour drive north of the capital, La Paz, where he still goes out to the fields every day to farm citrus fruits, coca and coffee.
"When the Spanish invaded they brought my ancestors here. They brought them to the area to work the land," he said.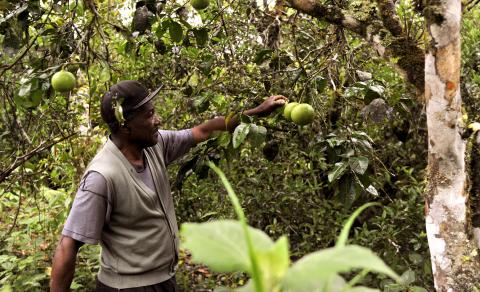 Julio Pinedo works at his farm on Nov. 23 at the Mururata community in the Bolivian Yungas region north of La Paz. Pinedo is a descendant of Congolese prince Uchicho.
Photo: AFP
Orphaned as a young boy when his parents died in an accident, Pinedo was raised by his grandfather Bonifacio, who was crowned king in 1932.
He succeeded his grandfather in 1992, but his official coronation ceremony was only held in 2007.
Pinedo does not have a throne or a court, but he does have a red cape with gold embroidery and a metallic crown, which he wears for local festivals. His title is mainly symbolic, he said.
His sole heir, Prince Roland, works as an office clerk at the Bolivian Congress, while his wife, Queen Angelica Larrea, runs a small shop whose shelves offer a scattering of sodas, sardine tins, cooking oil and bread.
According to the story passed down in the family, prince Uchicho was kidnapped and sold into slavery in the dying days of the Spanish empire. Shipped to Bolivia, he was forced to work on the coca plantations in Los Yungas, the agricultural region where Pinedo still lives.
Today, Pinedo's image is "a strong source of cultural identity and belonging" for Afro-Bolivians, said Jorge Medina, Boliva's first black congressman.
Historians do not know exactly how many slaves made the so-called Middle Passage from Africa to the Americas, but the number is in the tens of millions. Up to half died along the way of starvation, disease and brutal treatment.
In Bolivia, which was then the colonial territory of Upper Peru, the slaves were forced to work the silver mines in the city of Potosi and the plantations of Los Yungas.
"We believe that about half a million slaves arrived in Upper Peru, but there are no exact figures. First they brought us to Potosi, then here to Los Yungas," said Pedro Andaveres, a researcher who specializes in Afro-Bolivian culture.
Most traces of those ancestors have been lost, Andaveres said, adding: "They erased our history, they erased our original dialects, they erased our religions."
However, Bolivian culture today bears a distinct African imprint that can be heard in its Andean music and seen in the saya and caporales dances set to the rhythms of African drums. And Afro-Bolivians still have their king.
"He's our symbolic king. We don't pay tribute to him like a Spanish king, but people respect him," Medina said.
Comments will be moderated. Keep comments relevant to the article. Remarks containing abusive and obscene language, personal attacks of any kind or promotion will be removed and the user banned. Final decision will be at the discretion of the Taipei Times.