Activists criticize Pakistan for resuming executions
Rights groups on Saturday condemned Pakistan's decision to hang two convicted militants in its first executions in six years, as leaders vowed decisive action in the wake of a Taliban school massacre that left 149 people dead.
Pakistan described the bloody rampage in the northwestern city of Peshawar on Tuesday last week as its own "mini 9/11," saying it was a game changer in its fight against terror.
Pakistani Prime Minister Nawaz Sharif relinquished the six-year ban on the death penalty in terror-related cases two days after the school attack, with two militants convicted of separate terrorism offences the first to face the noose.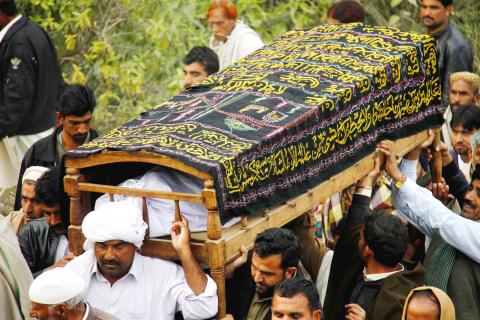 Following his execution by the Pakistani authorities, mourners attend the funeral ceremony of Arshad Mahmood in Javera village near Islamabad, Pakistan, on Friday.
Photo: EPA
Human Rights Watch on Saturday said the executions were "a craven politicized reaction to the Peshawar killings," and demanded that no further hangings be carried out.
"Pakistan's government has chosen to indulge in vengeful bloodlust instead of finding and prosecuting those responsible for the horrific Peshawar attack," it said.
The two militants hanged on Friday in central Punjab Province were Aqil, who was convicted for an attack on the army headquarters in Rawalpindi in 2009, and Arshad Mehmood, who was convicted for his involvement in a 2003 assassination attempt on former Pakistani prime minister Pervez Musharraf.
About 1,000 people turned up for their burial in the town of Kahuta, about 25km southeast of Islamabad, according to a reporter at the scene.
Meanwhile, Pakistan put all its airports on red alert on Saturday as the military intensified its operations against militants in the country's lawless tribal areas.
The army was deployed to guard major prisons housing militants and a number of educational institutions were shut indefinitely including Islamabad's Quaid-i-Azam University.
Officials have said there are to be up to 10 more executions in the coming days.
Amnesty International estimates that Pakistan has more than 8,000 prisoners on death row, with more than 500 of them convicted of terror-related charges, according to the government.
"This is a cynical reaction from the government. It masks a failure to deal with the core issue highlighted by the Peshawar attack, namely the lack of effective protection for civilians in northwest Pakistan," Amnesty International said about Friday's executions.
The UN also called for Pakistan to reconsider executing terror suspects, saying that "the death penalty has no measurable deterrent effect on levels of insurgent and terrorist violence" and "may even be counterproductive."
The Pakistani army has been waging a major offensive against long-standing Taliban and other militant strongholds in the restive tribal areas on the Afghan border for the last six months.
However, a series of fresh strikes after the Peshawar attack, which wrought devastation at an army-run school, suggest the military is stepping up its campaign.
Seven militants were killed on Saturday morning in two separate incidents as security forces hit their hideouts in the restive northwest.
A US drone strike in the lawless tribal area also hit a militant compound, killing five militants early on Saturday. As the Peshawar tragedy unfolded, Pakistani army chief General Raheel Sharif said the attack had renewed the forces' determination to push for the militants' "final elimination."
The atrocity was already the deadliest terror attack in Pakistan's troubled history, surpassing the 139 killed in bomb blasts targeting former Pakistani prime minister Benazir Bhutto in 2007.
However, Islamabad Red Mosque head Abdul Aziz slammed the army operation in North Waziristan as "un-Islamic" and said the slaughter in Peshawar was understandable.
"Oh rulers, Oh people in power, if you will commit such acts, there will be a reaction," Aziz told worshippers in his Friday sermon.
About 250 people protested outside the Red Mosque on Friday evening, denouncing hardliners like Aziz as Taliban sympathizers. Later, the Islamabad police registered a case against the cleric for threatening the protesters after they staged a sit-in protest outside a local police station demanding a case against the cleric.
Comments will be moderated. Keep comments relevant to the article. Remarks containing abusive and obscene language, personal attacks of any kind or promotion will be removed and the user banned. Final decision will be at the discretion of the Taipei Times.