Police charge mother with eight murders in Australia
'MOST TRAGIC EVENT': The mother of seven of the victims is under guard at a Cairns hospital, where she appeared before a magistrate at a bedside hearing
The mother of seven of the eight children killed in Australia was charged with their murder yesterday, police said, describing it as the most tragic episode in their career, as a makeshift memorial saw an outpouring of grief.
The 37-year-old, named in local media as Mersane Warria, was charged with eight counts of murder after the bodies of the children — four girls and four boys aged between two and 14 — were found in the northern Australian city of Cairns on Friday morning.
The murders have stunned Australia, still reeling from a dramatic siege in a central Sydney cafe last week, which left two hostages and a gunman dead, and prompted widespread shock and anger.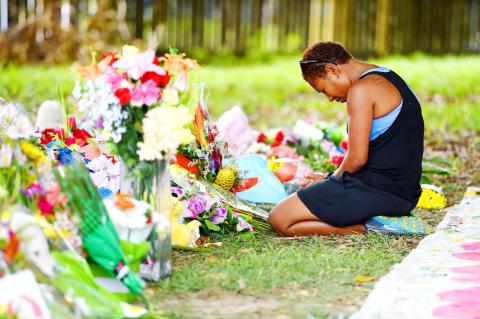 A mourner yesterday kneels by a floral tribute near a house in which eight children were stabbed to death in Manoora, a suburb of Cairns, Australia.
Photo: EPA
"I would suspect it might be the most tragic event we have had to deal with," Cairns detective inspector Bruno Asnicar told reporters.
"All of the family has been advised [of the charges]. This is very raw and it is a very emotive time for everybody. The family is deeply upset, but the community is pulling together," Asnicar said.
The woman remained under guard in a Cairns hospital after being arrested on Saturday and appeared before a magistrate at a bedside hearing, Queensland police said in a statement. Police said the woman, who is the mother of the seven younger children and the aunt of the 14-year-old girl, has sustained injuries that are not life-threatening. There will be a formal hearing in a Cairns court today, with police set to oppose bail.
Officers have not revealed the cause of death of the children, but said they were looking into various scenarios, including suffocation.
"We are considering that [suffocation] and that's why it's taking a bit of time," Asnicar said earlier yesterday.
Police previously said that knives were found at the house where the bodies were discovered.
Autopsies on the children were continuing and would be completed late yesterday at the earliest, police said.
In moving scenes at the makeshift memorial established in a park near the crime scene, a man believed to be the father of the three youngest children wailed "my babies, my babies," Fairfax Media reported.
He was joined at the shrine of flowers and teddy bears by other mourning relatives from the victims' Torres Strait Islander community.
"The last time I saw her she kissed me. She said she loved me and she asked for A$100, which I said I'd give to her on Saturday morning on her birthday," the father of the oldest victim told reporters. "My daughter, she was beautiful."
Queensland Police have not officially confirmed the identity of the mother or the family for cultural reasons. In some Aboriginal cultures it is considered disrespectful to say a deceased person's name.
Church services and community gatherings were also held in Cairns to remember the children.
The dead children were reportedly discovered by the mother's 20-year-old son when he arrived at the house in the Cairns suburb of Manoora on Friday morning.
The deaths came as a shock to police, who said the house was not known as a "problem house."
"I'm not trying to pretend that this area hasn't been a problem in the past," Asnicar said. "But what I'm saying is that to my team we haven't had any particular issues here and it's not a consideration of my investigation plan at all."
Cairns is a northern tropical city with a population of more than 150,000 and is popular with international tourists as a gateway to the Great Barrier Reef, one of Australia's biggest tourist sites.
Comments will be moderated. Keep comments relevant to the article. Remarks containing abusive and obscene language, personal attacks of any kind or promotion will be removed and the user banned. Final decision will be at the discretion of the Taipei Times.