Seoul prosecutors question Korean Air heiress
South Korean prosecutors yesterday questioned Korean Air Lines heiress and former senior executive Cho Hyun-ah over her reported fit of "nut rage" aboard an aircraft this month, which sparked a national uproar.
The 40-year-old daughter of the airline's chief executive and chairman forced the chief cabin crew member off a flight from New York to Seoul and compelled the taxiing plane to return to the gate after she took exception to being served macadamia nuts she had not asked for — and in a bag, not a bowl.
"I am sorry," Cho said as she was mobbed by journalists and photographers when she appeared at the Seoul Western Prosecutors' Office, keeping her head low and her face covered with shoulder-length hair.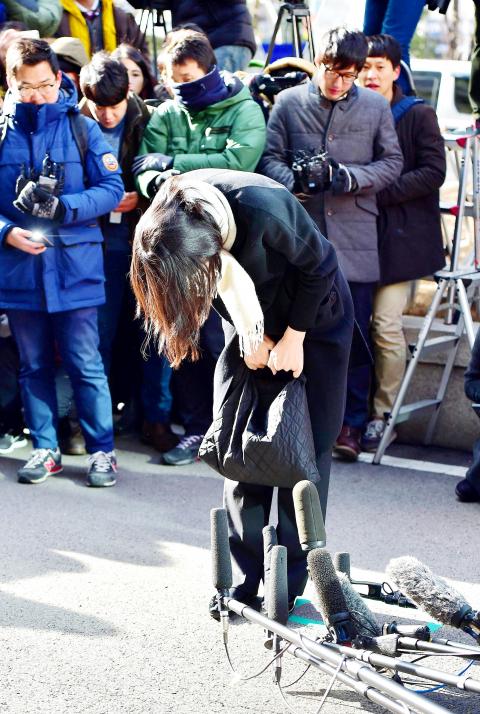 Cho Hyun-ah, daughter of Korean Air's chief executive, yesterday bows before media upon her arrival for questioning at the prosecutors' office in Seoul, South Korea.
Photo: AFP
AVIATION SAFETY
A South Korean Ministry of Land, Infrastructure and Transport investigation found that Cho breached aviation safety laws when she screamed and hurled abuse at a flight attendant and the chief purser, Park Chang-jin, during the so-called "nut rage" incident on Dec. 5.
Prosecutors are expected to focus on whether she forced the purser off the flight, ordered the pilot to return the airplane to the gate and whether she used violence against the two crew members, according to South Korea's Yonhap news agency.
Park has claimed that Cho pushed him into the cockpit door and jabbed him with a service manual.
She has denied reports that she made him and the flight attendant kneel and beg her forgiveness, but another passenger in first class has said that she forced both to their knees.
Cho — one of three children of Korean Air Lines chief executive Cho Yang-ho, who is also the patriarch of business conglomerate Hanjin Group — has publicly apologized and resigned from all her positions at the family-run group.
Prosecutors are also likely to investigate whether the airline's executives coerced cabin crew members to give false testimony to South Korean government inspectors to protect Cho.
"There are concerns over evidence tampering, so we plan to stop this by filing for an arrest warrant," a prosecutor was quoted as saying by the Chosun Ilbo daily newspaper.
FLIGHT BAN?
The ministry on Tuesday said that it would sanction Korean Air with a flight ban, most likely on the New York-Seoul route, that could last for up to a month, or with fines of up to US$2 million.
It also asked prosecution authorities to open a criminal probe into the incident.
Comments will be moderated. Keep comments relevant to the article. Remarks containing abusive and obscene language, personal attacks of any kind or promotion will be removed and the user banned. Final decision will be at the discretion of the Taipei Times.