Ukraine marks first day of no violence since start of conflict
Ukraine's president said yesterday that a fragile truce between his government's troops and Russian-backed separatists in east Ukraine had resulted in the first day free of deaths or injuries for his soldiers since the conflict erupted months ago.
Ukrainian President Petro Poroshenko, wrapping up a three-day visit to Australia, said the lull in fighting — which began on Tuesday after the president proposed a "day of silence" — appeared to be holding.
"Today is the first 24 hours for seven months ... when we have a real cease-fire in Ukraine," he said in a speech at the Lowy Institute for International Policy, prompting applause. "You simply can't imagine how important it is for me. This is the first night when I don't have neither lost nor wounded Ukrainian soldiers. When we don't have any lost or wounded civilians."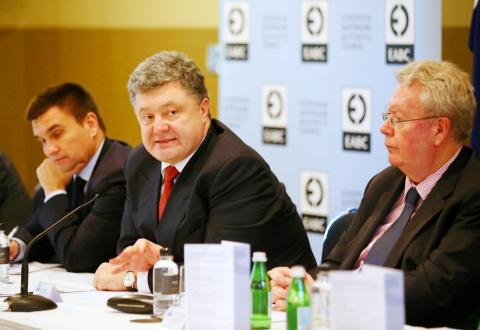 Ukraine President Petro Poroshenko, center, addresses participants of the European Australian Business Council roundtable in Sydney, Australia, yesterday.
Photo: AFP
Poroshenko called the truce in a bid to revive a much-violated ceasefire agreement signed in September. However, he acknowledged it was too early to declare the latest deal a victory.
"This is only 24 hours — everything is so fragile," he said. "But I pray that we should continue this process. And if we will be united, we will win, no doubt. Not win by military means, but we will launch the political dialogue, bring peace, bring stability to my nation, to the continent and to the whole world."
The war has left more than 4,300 people dead and displaced hundreds of thousands.
Poroshenko accused Russia of punishing his country for "choosing freedom."
"This is not just the war for our independence," he said. "This is the war for democracy, global democracy. And this is the war for security, global security."
Comments will be moderated. Keep comments relevant to the article. Remarks containing abusive and obscene language, personal attacks of any kind or promotion will be removed and the user banned. Final decision will be at the discretion of the Taipei Times.