Amnesty accuses Israel of war crimes
'NO JUSTFICATION': The 50-day conflict ended with 'large-scale destruction' and 'collective punishment' against Gaza residents, the human rights group said
The Israeli military committed war crimes during its Gaza offensive this summer and must be investigated, human rights monitor Amnesty International said yesterday.
The destruction of four multistory buildings during the last four days of the 50-day war were in breach of international humanitarian law, the group said in a report.
"All the evidence we have shows this large-scale destruction was carried out deliberately and with no military justification," Amnesty International director for the Middle East and North Africa Philip Luther said.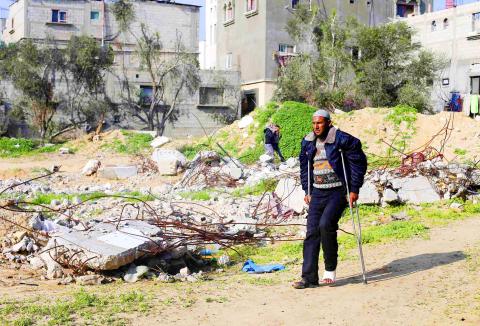 A relative of Palestinians from the Abu Jama family, whom medics said were killed by an Israeli air strike on their house during the 50-day conflict in July and August, walks on crutches past the remains of their destroyed house in Khan Younis in the southern Gaza Strip on Sunday.
Photo: Reuters
"War crimes must be independently and impartially investigated, and those responsible should be brought to justice in fair trials," he said.
Evidence including statements by the Israeli military at the time indicate that the attacks were "a collective punishment against the people of Gaza" designed to destroy their livelihoods, Luther added.
There was no immediate reaction to the Amnesty statement from Israeli authorities.
However, Jerusalem has refused to cooperate with a UN inquiry into possible war crimes during the conflict, accusing it of bias.
The Israeli military has launched a series of criminal investigations into incidents in the war, including the shelling of a UN school that medics said killed at least 15 people and the bombing of a beach where four children died.
However, critics have said that the investigations by Israel would not be independent.
More than 2,100 Palestinians, most of them civilians, were killed in the war between Israel and Hamas-led militants, which ended on Aug. 26. On the Israeli side, 73 people were killed, 67 of them soldiers.
One of the landmark buildings destroyed was the Municipal Commercial Center in Rafah, which contained a shopping mall, a medical clinic and offices, and provided livelihoods for hundreds of families, the Amnesty International report said.
Residents of the buildings about to be destroyed were told to leave by the Israeli military, but also that they did not have time to salvage important belongings, it added.
Scores of people from nearby buildings were injured and hundreds lost their homes, the rights group said.
Israeli authorities had said that one building housed a command center of Hamas and that another had "facilities linked to Palestinian militants," the report said.
However, Luther said the military still "had an obligation to choose means and methods of attack that would minimize harm to civilians and their property."
"The Israeli army have previously conducted airstrikes on specific apartments in high-rise buildings without their complete destruction," he added.
The rights group said it had sent its findings about the airstrikes to Israeli authorities with questions about why each attack was carried out, but had not received an adequate response.
The report called for Amnesty International and other rights groups to be allowed access to Gaza and for the UN inquiry to be allowed "to conduct its investigation without hindrance."
Comments will be moderated. Keep comments relevant to the article. Remarks containing abusive and obscene language, personal attacks of any kind or promotion will be removed and the user banned. Final decision will be at the discretion of the Taipei Times.