Washingtonians pay their respects to former mayor
Local and national US political leaders, prominent clergy and ordinary Washingtonians who got their first jobs as a result of former Washington mayor Marion Barr's programs were among the thousands who gathered on Saturday to say goodbye at Marr's funeral.
Barry died on Nov. 23 at 78. He served four terms as mayor and leaves a legacy as the most famous, the most beloved and the most divisive local leader in four decades of District of Columbia self-rule.
He was credited with expanding economic opportunities for the city's black majority, and helping to revitalize downtown Washington. He also had well-documented personal struggles, culminating in a 1990 arrest for smoking crack cocaine. He served six months in prison, but was later elected to his fourth term in a remarkable comeback.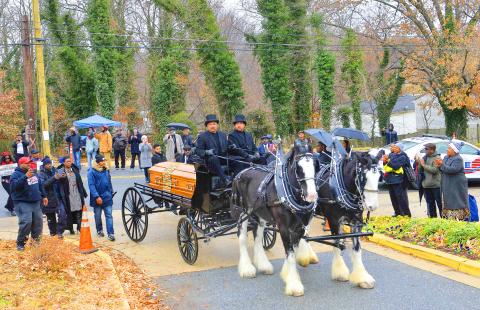 The casket of former Washington mayor Marion Barry arrives on a horse-drawn carriage at the Temple of Praise Baptist church in Washington on Friday.
Photo: AFP
More than two dozen people spoke at the four-hour service at the Washington Convention Center. The convention hall had seating for about 15,000 people, but it never appeared more than half full. A burial service at Congressional Cemetery was private.
In his eulogy, the Reverend Jesse Jackson called Barry, who came to Washington as the first chairman of the Student Non-Violent Coordinating Committee, a "freedom fighter" who joins the pantheon of civil rights leaders who died before him.
"Marion was one of the architects of the new South and the new America," Jackson said. "Marion Barry emancipated Washington."
The Reverend Louis Farrakhan, the head of the Nation of Islam who was in Washington to support Barry during his trial on drug charges, said he was asked by a reporter at the time what he thought of a man who broke his marital vows and used drugs.
"I said, 'Who are you talking about, [former US president] John Fitzgerald Kennedy?' That ended the press conference," Farrakhan said to a raucous ovation.
Farrakhan credited Barry with the success of the Million Man March on the National Mall, which the Nation of Islam leader organized in 1995.
Charles Wilson, 54, was one of many wearing a T-shirt printed with Barry photographs. A native Washingtonian, Wilson got his first job at 13 with the city's parks and recreation department through Barry's summer youth employment program.
"He was our father. He gave us jobs. He's done a lot for the city. Whatever I have belongs to him — my house, my car, my job with DC government," Wilson said.
Comments will be moderated. Keep comments relevant to the article. Remarks containing abusive and obscene language, personal attacks of any kind or promotion will be removed and the user banned. Final decision will be at the discretion of the Taipei Times.