Financing crisis freezes food aid to 1.7m Syrians
The World Food Programme (WFP) on Monday suspended food aid to more than 1.7 million Syrian refugees in neighboring countries, blaming a financing crisis caused by unhonored cash pledges.
The Rome-based UN agency said refugees in Jordan, Lebanon, Turkey, Iraq and Egypt risked going hungry this winter if donors do not urgently provide the US$64 million needed to finance the distribution of food vouchers through this month.
"This couldn't come at a worse time," UN High Commissioner for Refugees Antonio Guterres said in a statement. "I urgently appeal to the international community: Support WFP now, don't let refugees go hungry."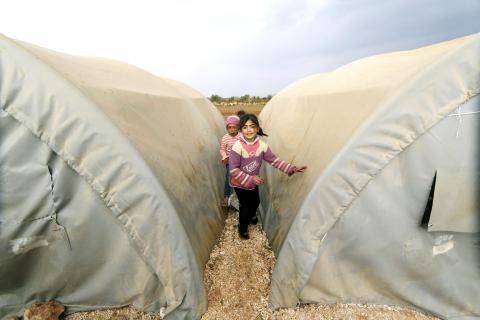 Children who were internally displaced by fighting between rebels and forces loyal to Syrian President Bashar al-Assad walk past tents at the Jarjanaz refugee camp in Syria's southern Idlib Province on Sunday.
Photo: Reuters
While WFP did not name which countries have not made good on their commitments, foreign ministers from Germany, Finland and Sweden told reporters in Copenhagen that their countries could do more to fill the funding gap.
"We have to strengthen our engagement and give humanitarian aid for the refugees and strengthen the structure of those countries who are hosting the refugees," German Foreign Minister Frank-Walter Steinmeier said.
The WFP said the refugees affected by the suspension of food aid included many children in Lebanon and Jordan facing harsh winters without adequate clothing or footwear, and living in tents already caked in mud that has made hygiene precarious.
Most in peril are the tens of thousands of families that are entirely dependent on international food aid, Guterres said.
Distribution of electronic food vouchers is to resume as soon as the pledged cash comes in.
The US, which has stumped up more than US$3 billion for Syrians — including about US$935 million for the WFP — since the start of the conflict, also voiced concern.
Washington is urging governments "to do more," US Department of State spokeswoman Jen Psaki said. "Without additional contributions, the World Food Programme could be forced to reduce rations for Syrians throughout the region."
WFP says it has fed millions of displaced people inside Syria and up to 1.8 million refugees in Lebanon, Jordan, Turkey, Iraq and Egypt in the three-and-a-half years since the conflict erupted.
"A suspension of WFP food assistance will endanger the health and safety of these refugees and will potentially cause further tensions, instability and insecurity in the neighboring host countries," WFP executive director Ertharin Cousin said. "The suspension of WFP food assistance will be disastrous for many already suffering families."
More than half of Syria's population has been forced to flee their homes since war began in their country in March 2011.
About 3.2 million have fled beyond the country's borders and more than 7.2 million have become internally displaced, according to the UN.
There is no end in sight to the fighting in the brutal conflict that has killed nearly 200,000 people.
Comments will be moderated. Keep comments relevant to the article. Remarks containing abusive and obscene language, personal attacks of any kind or promotion will be removed and the user banned. Final decision will be at the discretion of the Taipei Times.