FARC free army general, two others
Colombian Marxist rebels freed an army general and two other captives on Sunday, paving the way for peace negotiations in Cuba to resume in the quest to end five decades of war.
Colombian President Juan Manuel Santos halted the talks two weeks ago after the Revolutionary Armed Forces of Colombia (FARC) seized five hostages, including General Ruben Dario Alzate.
Santos insisted there would be no more negotiations until all five hostages were freed.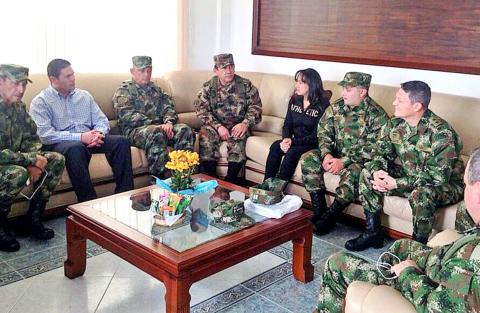 Colombian General Ruben Dario Alzate, right, Corporal Jorge Rodriguez, second right and Colombian Army lawyer Gloria Urrego, third right, meet with Colombian Minister of National Defense Juan Carlos Pinzon, second left, and other army officials at Rionegro Military Base near Medellin on Sunday after being released by the Armed Forces of Colombia rebel group.
Photo: EPA
The rebels released two soldiers last week and the other three — Alzate, a soldier and a civilian lawyer — were set free on Sunday in a jungle area of Choco Province on Colombia's Pacific coast. The government said they were in good health.
"It's clear this decision contributes to returning to a favorable climate for continuing the talks [and] shows the maturity of the process," Santos said in a statement.
Lead government negotiator, Humberto de la Calle, said late on Sunday that members of the government team would return to Havana for a two-day meeting with FARC leaders, although he stopped short of saying it marked a full resumption of talks.
Confirming the hostages' release, the FARC's team in Havana reiterated its demand for a ceasefire during peace talks, a request Santos has repeatedly said is out of the question.
The FARC said the two sides need "to redesign the rules of the game" without clarifying what that meant. FARC leader Rodrigo Londono said Santos violated an agreement governing the talks by bringing them to a halt.
Alzate, 55, and his fellow captives were seized as they disembarked from a boat in a violent and impoverished jungle region of Choco. The FARC declared him a prisoner of war.
The two soldiers freed on Tuesday last week were taken during combat in the eastern province of Arauca three weeks ago.
At the talks in Havana, the government and the FARC have reached partial agreement on land reform, ending the illegal drugs trade and political participation for demobilized rebels.
Former Colombian president Alvaro Uribe, now a senator, has slammed the talks, claiming the rebels are seeking impunity and had milked the hostage-taking for media coverage.
Comments will be moderated. Keep comments relevant to the article. Remarks containing abusive and obscene language, personal attacks of any kind or promotion will be removed and the user banned. Final decision will be at the discretion of the Taipei Times.